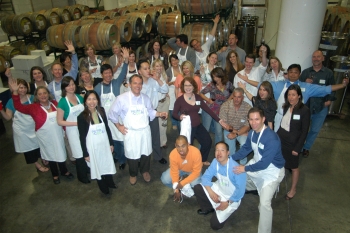 Why stay home to watch The Bachelor, when you can shake things up with real life bachelors and bachelorettes, while enjoying gourmet food and wine?
Last Thursday marked the official launch of Cooking Crush, an exciting series of parties that combine cooking with wine tasting in the hip industrial setting of Crushpad Winery in San Francisco. The professional chefs here at Parties That Cook had a blast showing guests how to cook up delicious small bites like Chorizo and Potato Spanish Tortilla Bites, Crostini of Fava Beans and Mint with Shaved Pecorino, and Mini Gyros Pockets with Grilled Lamb and Tzatziki Sauce. Guests enjoyed wine tastings provided by Crushpad, who create custom wine blends for very cool clients including Ted Allen of Top Chef/Queer Eye fame.
Check out Cooking With The Single Guy, for an insider's perspective on the evening affair. And stay tuned for the announcement of the next Cooking Crush party happening in July!