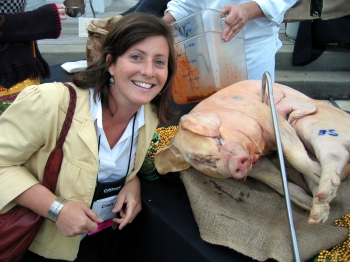 New Orleansians take their pork very seriously. Crawfish, oysters, beignets and Po'boys are equally serious business, each with their own long-standing culinary traditions in this Gulf city.
Our bottomless bellies gladly studied up on these Louisianian delicacies during a week-long stay in French Quarter, while attending this year's International Association of Culinary Professionals (IACP) conference.
At Cochon Restaurant, we enjoyed every part of the pig, including melty pork cheeks served with mustard cream and the "Cochon" self-titled entree, which as far as we could discern was composed of braised pork formed into a patty, then lavishly fried for optimal pork enjoyment.
The conference itself was a treat, with riveting lectures and panel discussions starring the food industry's finest chefs, restaurateurs, artisans, writers, and bloggers. Topics ranged from the ecological impact of caviar sourcing to the future of food media and video blogging.
Along the way, we met some fantastic food industry folks, including Upperline Restaurant owner JoAnn Clevenger, Cowgirl Creamery founder Sue Conley, award-winning cookbook authors Molly Stevens and Peter Reinhart, and lauded New Orleans chef Paul Purdhomme.
As we walked around the city, we noticed something sobering – even though the annual French Quarter Festival was in progress – the city seemed empty. It was amazing to see new restaurants popping up and business revitalization, but we also heard stories like that of our tour bus driver, who had only returned to New Orleans two months ago after losing her home to Katrina.
The week was a whirlwind of great food, lectures and Sazerac cocktails (fantastic New Orleans invention)… We here at Parties That Cook hope return to The Big Easy sometime very soon!