Fun. Simple. Delicious. These are the only descriptors needed to grab my attention on the cover of a brochure for Amita Thai Cooking Class. For the most authentic Thai cooking class, why not go straight to the source? Parties That Cook founder and CEO, Bibby Gignilliat, did just that early this month when she embarked on a journey that would take her to Southern Asia.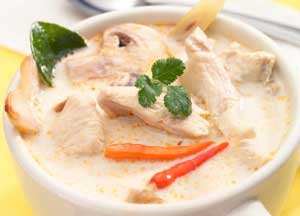 Bibby was lucky enough to partake in an Amita cooking class, held in Bangkok, Thailand. Before the cooking begins, the instructors present a quick cooking demonstration (sound familiar?), and students get to pick fresh ingredients to be used in the day's recipes from a nursery herb garden. After the class, students get to keep the recipes of the day, printed on the back of a colorful postcard of the finished meal! One of the favorites of the day was the sweet yet tangy Tom Kha Gai, or Chicken in Coconut Soup.
Tom Kha Gai
For more recipes with exotic flavors, check out our Ethnic Recipes Section!
Ingredients
100 grams sliced chicken breasts
¾ cup chicken stock
½ cup coconut milk
1 Tablespoon fish sauce
1 Tablespoon lime juice
5 thin sliced young galangal (blue ginger)
2 stalks lemongrass cut 1 inch length, crushed.
3 fresh kaffir lime leaves torn in half
3 red and green chilies, crushed for seasoning and garnish
Coriander leaves clipped for garnish
Methods/Steps
Soup: Boil chicken stock with galangal and lemon grass for aroma. Bring out galangal. Add chicken, slicked young galangal, coconut milk, lemon grass, kaffir lime leaves. Cover and simmer on low heat until chicken is cooked.
Season: Remove from heat. Season with fish sauce and lime juice, and add a pinch of salt for taste.
Garnish: with coriander leaves and red and green chilies before serving.
Makes 1 serving.
Bibby was eager to immerse herself in the culture and traditions of Thailand, though her ultimate destination was the tiny land of Bhutan. About half the size of Indiana, this landlocked country has been said to be "The happiest country in Asia" – take that Disneyland!