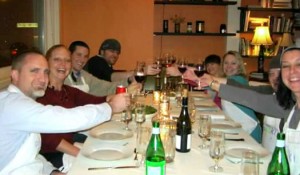 The holidays are meant for getting together with friends, family, and loved ones — usually over a delicious meal. We spend so much time with colleagues at work, why shouldn't we take some time to celebrate with them? That's exactly what Kristen Joy was thinking when she set out to plan a holiday party for her Customer Experience team at Amazon.
Kristen considered many team building activities her colleagues might enjoy: whirlyball, bowling, an in-home cocktail party, and even a fancy dinner out. She was less than impressed. Having experienced one of our events with Amazon in 2012, Kristen remembered how fun it was to cook and dine together. She soon reached out to Parties That Cook to plan a hands-on cooking event for her team.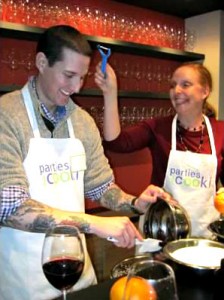 PTC Event Planner, Kelle, helped Kristen hone in on our Chef's Table Family Style. In this format, the group cooks a delicious meal of several dishes under the guidance of professional chefs. Then, guests sit down together and serve themselves from bountiful platters of delicious food. Team bonding can be found in every stage of the Chef's Table Family Style, from the collaborative cooking to the helpful passing of platters from guest to guest. According to Kristen, "Planning was easy, and I appreciated Kelle's patience in working with my schedule. The recipes were simple enough that the cooking was not stressful, but fun and achievable. The dinner was amazing!"
Kristen's Amazon group brought a fun lightness as they joked about which team was going to make the best dish and got silly in front of the camera. FYI, cooking utensils make fantastic props! Oh, and we can't forget the White Elephant gift exchange…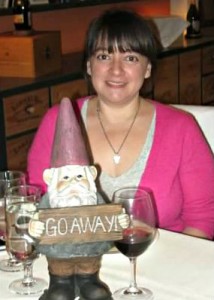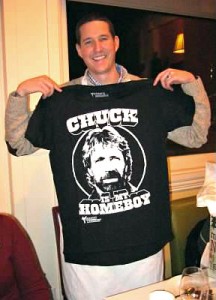 Kristen had organized a White Elephant gift exchange for after the meal. With relaxed guests and amusing gifts, this low-pressure gift exchange resulted in lots of laughter. What a great way to end a fun evening! Given that this was Amazon's Customer Experience team, we were especially thrilled to learn that we had exceeded their expectations. Kristen noted having "liked the small group size, intimacy, and the ability to get great direction and attention from the chef." She also "loved the Seattle Wine Outlet, and the family style sit down meal after cooking," and has already recommended us to friends and family! Thank you, Kristen, for choosing Parties That Cook to help your group celebrate and bond this holiday season.