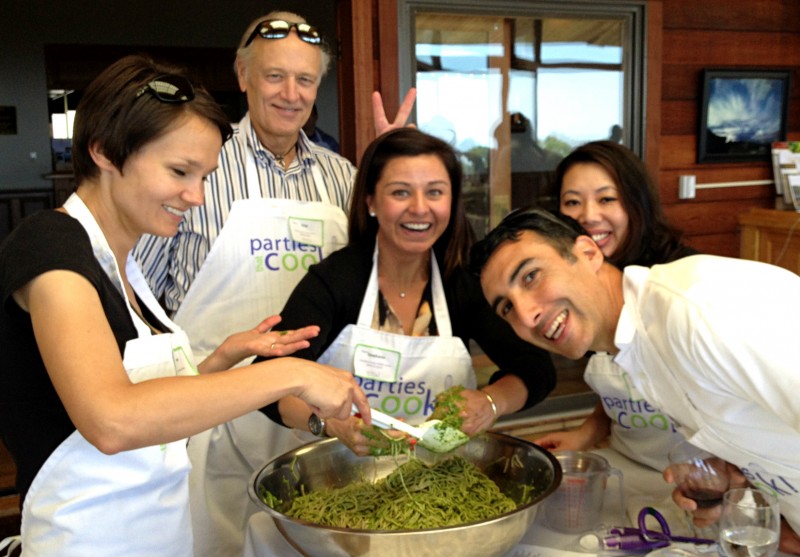 Earlier this quarter, we hosted a corporate team building event for Bay Area client, Geron. The company's Senior Director of HR, Stephanie, helped organize the event for her group. We could just share her feedback with you, but we thought it'd be even better to pair her kind words with actual photos from her hands-on cooking event.
This particular team needed a break; to get away from work and connect with each other. According to Stephanie, "It was the perfect outing for our company given all the recent changes and roadblocks we've faced. It was well set up to allow our employees to engage and interact with one another rather than being passive and sitting around in the usual cliques. A great event for our employees to leave work at the office and enjoy the company of their colleagues over a great lunch and drinks!"
PTC Event Manager, Kelle, took the lead on organizing this event. Stephanie's feedback? "Kelle was fantastic! Very knowledgeable and had great advice on helping me get the right venue and ambiance for a great event. She was extremely patient with me, particularly each time I came back with a change of plans (sorry!) that no doubt required her to do more work on my behalf. I appreciate all her diligence and thoroughness for making this event go without a hitch!"
Going above and beyond for our clients is not a hassle, it's just part of the job.
Stephanie added that not having to worry about the little things "allowed the attendees to truly relax and enjoy the experience of cooking great food!" And she enjoyed the great menu options, stating, "I couldn't have asked for a better selection of food options."
"Everyone thought the venue was beautiful, the lunch menu was great and your staff was helpful and humorous! The staff looked like they were having a great time, interacted well with each other and were very knowledgeable and well prepared. We had a great event and your staff was instrumental in making it happen! Kudos to your company and team."
Responses like this is why we love doing what we do. If you'd like more information about our team building events, go to www.PartiesThatCook.com.