One recent Saturday morning, three very lucky Parties That Cook gals were led on an "edible excursion" through San Francisco's Japan-town. We met up with Lisa Rogovin, founder and CEO of Bay Area culinary tour company, Edible Excursions, at the Peace Plaza. After learning some of the general history of Japan-town, the mixed group of both locals and out-of-towners embarked on a tasting tour of epic proportions.
We had been warned informed that we would be making 7 stops throughout the 4-block neighborhood, and sampling specialties at each location. Oh boy. First up: slightly sweet and very creamy sweet potato lattes at the adorable Yakiniq Cafe. Great way to start the day!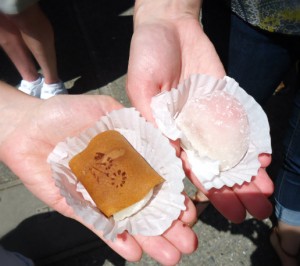 We then trekked (just around the corner) to Benkyo-do for samples of deliciously fresh mochi and manju. Family owned and operated, this tiny diner makes each piece of manju by hand daily. Rebecca went with the seasonal strawberry mochi (with a real strawberry inside!), while Crissy and Kelle both opted for Chofu (pancake wrapped around sweet plain rice). YUM. We could've spent all day sampling the variety of sweets available. Thankfully Lisa kept the group on task, and we moved on, treats in hand.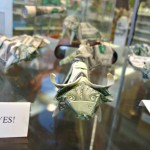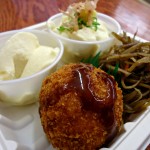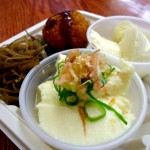 After a quick stop into Paper Tree, where we saw incredibly intricate origami pieces on display, we popped into Super Mira Market. We were greeted so warmly upon arrival, and encouraged to explore the market while our next tasting was set up. When it was time to sit down, we found perfectly portioned trays with savory Gobo Salads of julienned burdock root and carrots, fried organic potato croquettes, local Sunnyvale silken tofu served two ways: plain with an optional savory sesame sauce, or with katsuobushi (dried bonito flakes) and scallions that paired well with soy sauce. Trust that all items were devoured quickly and it took a good amount of willpower to save room for everything else on the day's agenda.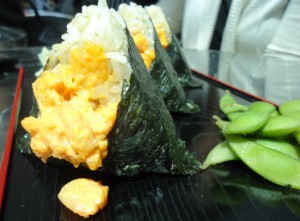 Our next stop was New People, a glass-front building that houses a number of local businesses. Among the clothing stores, floral design center, art gallery, and movie theater, is Onigilly, which serves a variety of gourmet Japanese rice balls with a modern twist. Branded as "Japanese soul food", Onigilly has been popping up everywhere in the SF food scene, and even operates its own food truck!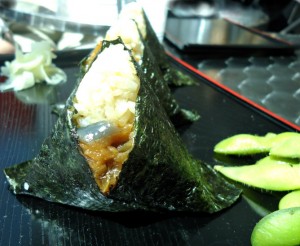 Our group sampled the spicy shrimp onigiri and eggplant onigiri. The flavors were perfect, and the nori seaweed wrap did its job holding the rice ball together. After everything we had already tasted, one onigiri was more than enough. I'll have to be sure to pay them a visit next time we see them at Off The Grid!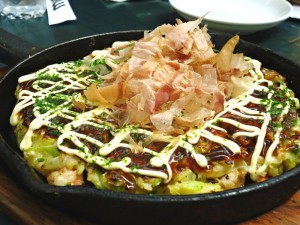 Lisa then led us into the mall for our next few bites. We took our seats outside Mifune Don, still discussing how delicious those onigiri were and learning a more about the history of the stores surrounding us. And then it came. The Okonomiyaki. Osaka-style. This dish, often considered to be like a Japanese pizza or pancake, was served in a piping hot skillet. Katsuobushi decorated the top, and actually moved! We were in awe, mesmerized by the dancing meal in front of us; almost reluctant to eat it. Of course, once sliced and placed in front of us, who could resist? In no time, we had powered through the okonomiyaki (and I had made a mental note: COME BACK. NEED MORE.).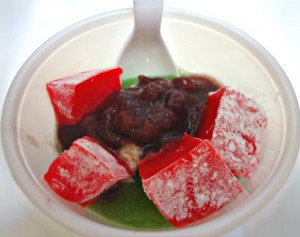 We moved downstairs, to Café Hana. None of the participants knew what to expect when Lisa said we'd be sampling Geisha floats. Wow. The green tea slush, vanilla ice cream, red bean paste, and mochi bites came together wonderfully in this colorful mini float! No way would we have been able to handle the full size – complete with whipped cream and a cherry.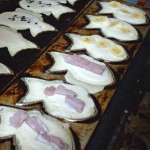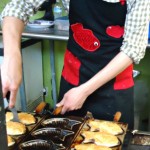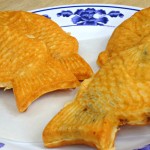 With the last sips of our floats, we were nearing the finish line! Talk about mixed emotions. We were relieved that we wouldn't be tempted by too many more good eats, but sad that this adventure would soon be coming to an end. Luckily, May's Coffee Shop, the next tasting spot offered (unintentional) entertainment to distract us from conflicting emotions! The three PTC ladies had obviously never seen someone make a stuffed pancake in the shape of a fish (Taiyaki) before. They were glued to the little window, and even asked if they could film the process. By this time, our eyes were betraying our nearly full bellies. The mouth-watering Taiyaki were placed at the table and no one was able to take on a full serving. We managed to sample a little of each type (taro and chocolate with banana) before waiving the white flag. I could not wrap my head around how much I had eaten, or how I could be turning down such a sweet treat!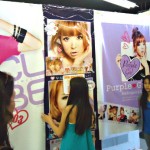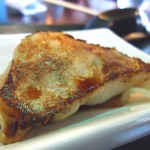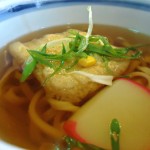 Before moving on to our final destination, a sit-down lunch of Gyoza and Udon with housemade noodles, we stalled took a peek at the popular photo-booth business, Pika Pika. Swarms of teenage girls buzzed through the space, rushing in and out of the huge booths. Dare I say it – next PTC team outing, anyone?? We finally left and made it to Mifune Bistro, where our feast awaited us. We were all surprised to experience a second wind as we munched, slurped, and drank the delicious finale to our adventure. It was so nice to sit down, rehash our favorite stops, and learn even more about Japanese culture.
**These photos (and more!) can be found on Parties That Cook's Facebook page!
Should you embark on Edible Excursions' tasting tour of 7 Japan-town businesses, you'll grow to appreciate and understand why this neighborhood is such an important place to San Franciscans and to the United States. Side effects may include: Feelings of pride in making it through all the samples (and full meal at the end), desire to experience more exotic foods, eagerness to come back to Japan-town, dreams of reliving the tasting tour, and wondering why you didn't spend more time in Japan-town before.
Aren't YOU lucky? Edible Excursions is now offering the Japan-town tour every Friday and Saturday. Check out their website for information on all their culinary tours. I'll let you in on a little secret: Parties That Cook might just be partnering with Lisa and her team of epicurean concierges to bring you a Japan-town cooking class and tasting tour. Much like our Mouthwatering Mission class, we expect it to be a hit! Stay tuned!