Have you ever wanted to be one of the "cool kids"? It's OK to admit, we can't all have been Cheerios at McKinley. There's still time to make the transition, even for those no longer in school. The IT thing to try right now: Vegetarian Food. Parties That Cook is here to help with this recipe for delicious Polenta Toasts with Red Bell Pepper Pesto and Goat Cheese that will give you a whole new view of vegetarian food!
Polenta Toasts with Red Bell Pepper Pesto and Goat Cheese
This recipe can also be found in our Appetizer Recipe Library!

Ingredients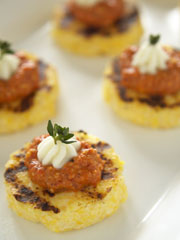 Polenta:
Canola oil for oiling sheet pan and frying
7 cups milk
2 3/4 teaspoons kosher salt
2 Tablespoons unsalted butter
2 1/2 cups polenta (coarse cornmeal)
Red Bell Pepper Pesto:
2 red bell peppers
1 chipotle chile in adobo sauce, seeds removed and chopped
1/4 cup smoked almonds
2 large cloves garlic
3 Tablespoons extra-virgin olive oil
1 Tablespoon lemon juice plus 1/4 teaspoon lemon zest
2 Tablespoons freshly grated Parmesan cheese
1 teaspoon kosher salt
Toasts:
7 ounces goat cheese
1 Tablespoon milk or cream
Thyme sprigs for garnish
Methods/Steps
Polenta: Lightly oil a rimmed baking sheet. Combine milk, salt and butter in a large heavy saucepan. Bring to a boil. Gradually add the polenta, whisking until smooth. Reduce heat to low. Cook the polenta until it is creamy and thick, stirring frequently, about 5 minutes. Pour out onto oiled sheet, spread evenly so that it is very smooth and flat. Let cool to room temperature.
Red Bell Pepper Pesto: Roast the pepper over a stovetop flame until blackened (or broil in the oven until blackened). Transfer to a paper bag for 5 minutes to steam then peel off the charred skin and remove seeds and stem. In a food processor, blend the peppers, chipotle, almonds, garlic, oil, lemon juice and zest, Parmesan and salt until very smooth.
Grilled Polenta: Using a wet, 2 inch round cookie cutter, cut out polenta circles. Heat canola oil in a large non-stick grill pan or griddle. Cook polenta on one side until golden then flip and cook on the other side. Transfer finished circles to a serving platter.
To Serve: Mix the goat cheese, milk and thyme with a fork. Spoon goat cheese into a pastry bag fitted with a star tip. Put a dollop of the pesto onto each polenta circle. Pipe a rosette of goat cheese in the center. Garnish with thyme sprig and serve.
Makes 24 Polenta Toasts
Want to try something new, eat delicious food, and learn a few new cooking techniques in the process? Then be sure to check out our first ever Vegetarian Tapas Cooking Class on March 1, 2011! Vegetarian International Tapas (similar to the one above) are on the evening's menu, though you don't actually have to be a vegetarian to attend. After this class, you may just be inspired to try Source, a Vegetarian and Vegan restaurant with a much-anticipated opening in San Francisco on March 2.