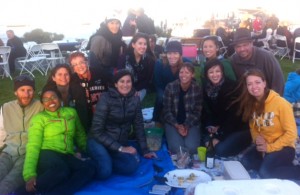 Parties That Cook believes that the magic of food can and does create connections; it creates family. Not every company is as tightly knit as Parties That Cook. When you join our team, you join our family. Each member is unquestionably valuable, and the Founder & CEO, Bibby Gignilliat, has crafted a really unique culture of support.
So when Chef Jen informed us of her need to move across the country, we were a little heartbroken to say goodbye. To cope with the on-setting depression, we decided to close the office early and head out to Sausalito for their Friday night jazz concert. How better to say goodbye than with a casual company picnic on a sunny afternoon near the water?!
Walking up to the group, this intern was introduced to a number of "family members" she previously knew only by name. We all settled down on our blankets and devoured Bibby's delicious curried tuna in mini pita pockets. (Picnic finger food in true PTC fashion.) Perfectly savory with a slight sweetness, I couldn't get enough of these. But let me tell you, the raspberry bars were even more incredible. The mild tartness of the raspberries and the sweet, crumbly almond crust come together to just melt in your mouth. I didn't even realize they were a PTC recipe, but I'm still dreaming about these bars.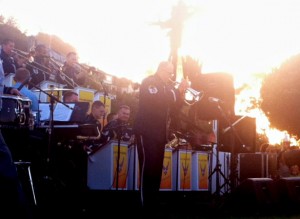 The big band jazz later serenaded us as we caught up on everyone's plans. Laughter rose and a few of our crew stood up and danced. Music creates family in a similar way to food, and I think this was the perfect way to spend a Friday night. Dusk began to fall and the temperature began to drop as I watched everyone in our party embrace Jen and tell her how much her energy, skills, and laughter would be missed. If that isn't family, I don't know what is.
Goodbye Jen! Best of luck on all your ventures and we hope you stay in touch!