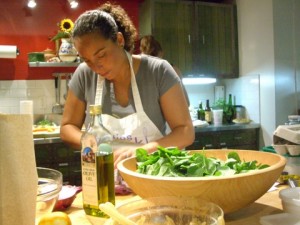 As annual ritual dictates, we recently broke out our knives and spatulas for rigorous recipe testing of our newly drafted 2008 Fall & Holiday Menus. It's only mid-September, but here at Parties That Cook we're already gearing up for a busy holiday season jam-packed with holiday parties, corporate team building events, Christmas cocktail soirées and family celebrations.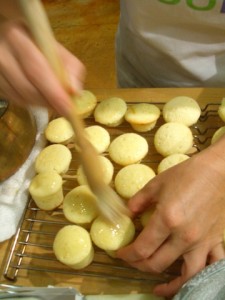 The day began with a meeting of five PTC chefs at our top secret test kitchen facility. Executive Chef Gignilliat assigned each of the chefs 5 to 6 recipes each to test and refine during the course of the day.
Below are a few items on the lengthy carte du jour….(C)LICK links for tasty sneak-peek photos of these delicious holiday dishes.
You'll just have to join us for a holiday cooking party to taste test the real deal!
If you book a cooking party with us now through Oct 31st, we're offering $200 off all parties! Our stove is filling up fast, so call or email us to reserve your holiday party date!
• White Bean, Yogurt and Feta Dip with Herbed Pita Chips
• Caraway and Gruyère Gougères Sprinkled with Sea Salt
• Mini Meyer Lemon Cupcakes with Cream Cheese Frosting
• Savory Butternut Squash Turnovers with Cinnamon-Harissa Crème Fraîche
• Tartlets of Roquefort, Apples, Onions and Honey
• Chicken under a Brick Stuffed with Ricotta, Walnut and Arugula Pesto
• Grilled Skirt Steak with Ancho Mole Sauce
• Spice-Crusted Salmon Skewers with Harissa Yogurt Sauce
• Lamb Loin Chops with Dried Cherry Port Sauce
• Parmesan and Herb Crusted Filet Mignon
• Gingerbread Cakes with Aunt Mimi's Bourbon Cream Sauce
• Meyer Lemon Olive Oil Cake with Pomegranate Syrup
• Brown Sugar-Roasted Pineapple with Coconut Shortcakes
Okay, we've teased you enough!
If you're in the mood to try our Savory Butternut Squash Turnovers with Cinnamon-Harissa Crème Fraîche, check out these How-to photos and grab the recipe here.