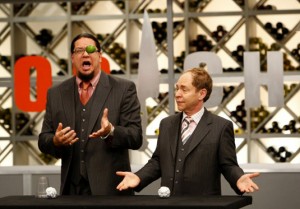 This week's episode seemed like a flashback to high school, full of cattiness and cliques with a dash of deconstruction and molecular gastronomy.
It's the We-Don't-Like-Robin Club, and Mike I., Eli and Laurine are all running for Club President.  Mattim is gone, and the cheftestants are upset- especially Mike I.  They each decide to represent their recently departed friend by wearing his signature red handkerchief.  Robin hit the nail on the head by stating the general consensus was that she should have been the one to go (but wait until we get to the quick-fire challenge).
The contestants welcome James Beard award-winning chef Michelle Bernstein to the quick-fire challenge.  The challenge: make a duo that represents the chef's personal battles between their own angels and devils.  Most of the chefs had similar interpretations of the angel/devil duo- healthy vs. butter, healthy vs. fat, healthy vs. not-so healthy.  You get the idea.  Ash, Bryan and Laurine found themselves at the bottom of this quick-fire.  Michael V., Eli and Robin were on top.  Chef Bernstein chose Robin as the winner and the rest of the contestants were not so pleased.  Her duo of arugula, apple and fennel salad and cardamom apple ginger crisp was simple and well executed.
Magicians Penn & Teller arrive for the elimination challenge.  The duo (do I sense a theme here?) perform the classic version of cups and balls.  But true to Penn & Teller's style, they show a deconstruction of the magic act by using clear cups and ta-da!  All is revealed, which is the perfect set up to the elimination challenge.
Their challenge is to deconstruct a classic dish into something that is not recognizable, but tastes and smells of the original dish.  The menu: meat lasagna, Caesar salad, shepherd's pie, clam chowder, sweet and sour pork, fish and chips, chicken mole negro, Reuben, eggs Florentine, pot roast and paella.
Immediately, Jennifer is not too enthusiastic about her meat lasagna and Mike I. describes his dish as 'eggs-foreign-to-me' since he has no clue what eggs Florentine is.  Michael V. seems confident about his deconstructed Caesar salad.  Sibling rivalry between the Voltaggio brothers is in the air as Brian calls Michael V. a 'show off' for baking his own bread.  Ron has some trouble with the concept of deconstruction and seems to be making classic paella.  Between Laurine's annoyance with Robin and problematic chips for her fish, she does not seem on top of her game.
Back at the house, Eli and Kevin try to help Ron conceptualize his paella.  Laurine, Mike I. and Jennifer chat about their resentment towards Robin and Mike is still confused about what eggs Florentine is (maybe he should sign up for one of our hand's on cooking classes).
Toby Young is back and sits in for Gail in this elimination challenge.  Keeping with the duality theme, the chefs serve their dishes in pairs.  After the deconstructed meals, Padma calls Ash, Michael, Kevin and Jennifer as the winners of the elimination challenge.  The judges enjoyed Michael V's thoughtful take on Caesar salad and the use of chemicals in his dish.  In the end, Kevin took the win for his delicious chicken mole negro.
Laurine, Ron and Ash are called out as the bottom of the elimination challenge.  The judges were disappointed in Laurine's overly deconstructed dish and lack of tasty chips.  Ash's poorly cooked chops did not please Tom.  Ultimately, Ron was sent home for the lack of deconstruction in his dry, soggy paella.  Michelle points out that even if he did not know how to deconstruct paella, at least make a delicious paella.  But such was not the case and the chefs bid adieu to Ron.
Contributed by Krystal Shih