Mother's Day is this Sunday.
It's Tuesday.
Believe it or not, you're ahead of the game.
In case you're still feeling panicked (or it is no longer Tuesday) Parties That Cook has your Complete Guide to Mother's Day eats, gifts and activities!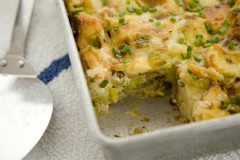 Start the Day Off Right:
-Breakfast in bed is a classic. You can't go wrong with a meal made with love. Unfortunately, if you no longer live with your mother, it could get a little awkward… Yeah.
-A great alternative is a lovely brunch at a local café or her favorite lunch spot! Popsugar has a detailed list of Mother's Day Brunch specials around Chicago! Tablehopper offers her own extensive list of Mother's Day Dining Options in San Francisco!
-Looking for something a little more hands-on? Check out our Mother's Day Brunch Cooking Class in San Francisco! Spend the day with mom sipping sparkling wine and learning new cooking techniques as you prepare a gourmet brunch together.
Spend Time with Mom in Other Ways:
-Go for a stroll in the sun! Those of you in the San Francisco Bay Area can take her for a special bike ride, walk or run through the Mission during this week's Sunday Streets event.
-Whether she likes Hugh Jackman, Elvis Costello or The Little Mermaid, the night offers a variety of fun events, too!
Gifts That Would Make a Mother Proud:
-Flowers. In fact, today's Living Social deal is $35 of flowers for $15! (But you only have HOURS left!)
-Jewelry (that doesn't cost an arm and a leg). This oh-so-cute cupcake ring(above) might show your mom how sweet she is, but so would every other item from Polina & Sergey Muha.
-Mama's Nuts. Peanut Brittle handmade in Chicago! Remember, when presenting these old fashioned treats, its best not to say, "Just like you!"
-Organization. We know she's a super hero, but this oversized dry-erase calendar wall decal will make saving the world that much easier.
Have your own ideas for a great Mother's Day? Let us know! Leave us a comment with your favorite brunch item, Mom activity or gift idea!