Every Tuesday, Thursday, and Saturday you can find the Ferry Plaza Farmers Market open for business, rain or shine –hard core, right? Regarded as one of the country's best farmers markets, small farmers and ranchers (all California Certified Producers) have been bringing their best since 1993! CUESA, aka the Center for Urban Education about Sustainable Agriculture, is the nonprofit that organizes this California Certified Farmers Market.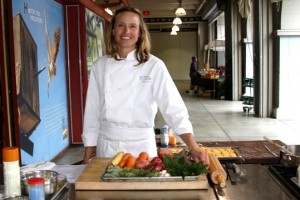 On occasion, in addition to its fresh farm products, and its artisan and prepared foods, you might just find a special treat. This was the case last Saturday when Parties That Cook chef, Jill Klein, gave a Seasonal Cooking Demonstration right in the middle of the farmers market! Big thanks to Sarah Henkin, Market Chef for CUESA, for the invitation to participate. Jill reported LOTS of interested people in the crowd, and said everything went really well!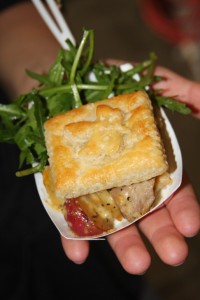 Everyone loved the Roasted Turkey and Root Vegetable Pot Pie Napoleon with its Golden Flaky Pie Crust, but who wouldn't? The turkey is moist, the filling ingredients are fresh and flavorful,  and the pie crust is rumored to be the lightest and flakiest EVER. We loved this recipe so much we even made it our recipe of the month! This seasonal holiday recipe is just in time for your Thanksgiving turkey cravings.
Roasted Turkey and Root Vegetable Pot Pie Napoleon
Don't forget to check out the recipe for the unforgettable Golden Flaky Pie Crust, as well!
Ingredients
Turkey:
4 pounds turkey thighs, about 3 whole thighs (can substitute chicken thighs)
4 cups water
1/2 cup sugar
1 cup kosher salt
3 garlic cloves, smashed
1 1/4 teaspoons black peppercorns, cracked
2 sprigs rosemary, lightly bruised
4 Tablespoons unsalted butter
1 cup chicken stock
Pot Pie Filling:
3 large carrots, peeled and sliced on a diagonal, about 1 inch long and ½ inch thick
3 large parsnips, peeled and sliced on a diagonal, about 1 inch long and ½ inch thick
1 small sweet potato, about 2 cups, cut into 1 inch dice
1 pound small red potatoes, halved (quarters if they are big)
1 medium red onion, cut into large dice
1/2 cup peeled whole garlic cloves, smashed
1 Tablespoon fresh sage, chopped
1 teaspoon dried thyme
1 teaspoon dried rosemary
3 tablespoons brown sugar
2 teaspoon kosher salt
1 teaspoon ground black pepper
1/4 cup extra virgin olive oil
Veloute Sauce:
1/3 cup unsalted butter
1/3 cup flour
5 cups vegetable or chicken stock
1 1/2 cups heavy cream
2 bay leaves
2 teaspoons kosher salt
1/8 teaspoon ground black pepper
2 teaspoon s chopped sage
1 Tablespoon lemon juice
Pinch of nutmeg
See Golden Flaky Pie Crust with Fleur de Sel Recipe
Methods/Steps
Preheat oven to 400°F.
Brine and Roast Turkey: Cut all of the thighs in half so one half has a bone and the other half is boneless. The bones will give the dish more flavor, and cutting it in half will allow the turkey to cook quicker. Set aside. In a large bowl, combine water, sugar, salt, garlic cloves, peppercorns, and rosemary sprig. Stir until the sugar and salt are dissolved. Add the turkey pieces and ensure meat is submerged. Cover the bowl with plastic wrap and refrigerate 1-1.5 hours.  Remove turkey from the brine and pat dry with paper towels. Place the turkey pieces into a large dish and rub the butter all over the top and bottom of thighs.  Pour in the chicken stock and bake for 30 minutes or until a thermometer placed into the thickest part of the meat registers at 165 degrees. Remove from oven and pour off any juices into a measuring cup and reserve for the sauce. Let the turkey cool until it can be handled. Discard the skin and shred the thighs into bite size pieces and set aside.
Roast Vegetables: Place all of these ingredients into a large bowl and mix well so everything is coated evenly with the spices and herbs. Pour out onto a sheet pan and place into the oven to roast for 25 minutes or until they are golden brown. Stir vegetables half way through cooking with a metal spatula. Meanwhile make sauce.
Make Veloute Sauce: In a medium saucepan, melt the butter over low heat (don't let it burn) and add the flour. Raise the heat to medium and whisk the butter and flour together for about 2 minutes to form a white roux. Slowly pour the stock, the reserved pan juices and the cream into the roux while constantly whisking. Add the bay leaves. When the stock begins to simmer, turn down the heat to low and cook until the sauce thickens, stirring now with a wooden spoon to get into the corners of the pot. A thin skin may form; just skim it away with your spoon. Depending on your stovetop, the sauce may take 5 – 10 minutes to get to your desired consistency. Season the sauce with the salt, pepper, sage, lemon juice and a pinch of nutmeg. Remove about 2 cups of the sauce to a smaller saucepan to use when plating. To the large pot of sauce, add the roasted turkey and the roasted vegetables. Stir gently as to not mash the vegetables.
Assemble Napoleons: Place a plain *round of crust* onto the plate. Top with a generous spoonful of the pot pie filling. Place the decorative *crust round* on top. Ladle more sauce on the plate as needed and top with the salad greens.
**See Golden Flaky Pie Crust with Fleur de Sel and Little Gems Salad recipe here!
Serves/Makes
Serves 8
For other great holiday recipe ideas, check out our Holiday Recipes Section!