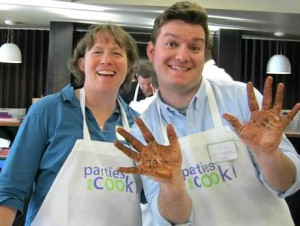 It's been a while since we heard from our Portland team, so let's check in with them, shall we? There's been a flurry of exciting activity up there, but luckily Carolyn was able to give us the scoop on a recent Kitchen Challenge! As you may recall from the blog a couple weeks ago, the Parties That Cook Kitchen Challenge is a distinctive mix of The Apprentice and Iron Chef. Fast-paced and competitive, the event never fails to get the creative juices flowing while bringing out the fun inner chefs of our guests. Our latest international corporate group from Nike was no exception!
In Portland, there's no better place to host a Kitchen Challenge than at one of our favorite venues, Jeld-Wen Field, home of the MLS Portland Timbers Soccer Team. You can't escape the competitive spirit! Before revealing the secret protein, starch and vegetable, Portland Lead Chef Laura began this cooking competition by presenting entertaining cooking tips and tricks. Teams would be working with flank steak, orzo pasta, and green beans. Preparation, techniques, and additional ingredients would be up to the team members. As usual, the only recipe we provided was for dessert: Boston Cream Pie Trifle with Strawberries. Yum! As Laura counted down to the start of the timed hour of cooking, anticipation built, and then the hustle and bustle began!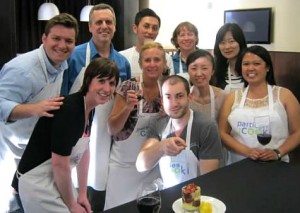 Both teams came up with dishes that represented its members – one team had an Asian influence from four of their teammates, and the other team added an Italian flair to their orzo pasta by making it orzo "risotto". All the food was very creative and delicious!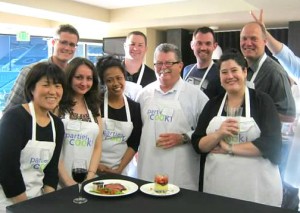 Ruby, our Nike host, graciously told Laura that the Kitchen Challenge was "fun and engaging because it offered both structure and the opportunity to think creatively and play." High compliments indeed! Seeing as the food was delicious and the guests had a marvelous time, I'd say our PDX team scored a perfect 10 on providing the framework for another great event. Good job team!