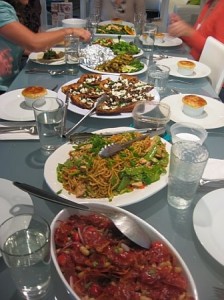 Michelene chose Sydney-based restaurateur and chef Bill Granger's Bills Open Kitchen as this month's cookbook club selection.
The simple recipes resulted in effortless dishes and overall success for another Parties That Cook Cookbook Club.
Briget's Onion and Feta Cheese Tart- The saltiness of the feta was the perfect counterpart to the sweetness of the caramelized onions in this hearty tart.  The recipe required a 425 degree oven; however Rosie would have lowered the temp just a bit to ensure a burnt-free pastry base.
Fresh Baked Beans- The crispy, fried prosciutto atop the baked cannellini beans, tomatoes, garlic and chili flakes was perfection.  Michelene thought roasted tomatoes would have been just as delicious in this simple and straightforward dish.
Beef and Mushroom Pot Pies- Beth whipped up a hit with these savory pot pies.  They were just as delicious the next day for lunch too!  The ready-made puff pastry made the dish a cinch to create.
Stir-Fried Chicken with Chili and Basil- Maureen's addition of orange went well with the salty fish sauce in this easy, chicken and green bean stir-fry.
Fish Burritos- I devoured my tilapia, cucumber salad and homemade lime mayonnaise burrito (more like taco) in practically one bite!  The clean, fresh flavors of Crissy's dish were one of personal favorites of the afternoon.
Roasted Soy Chicken with Noodle Salad- Although Bibby did not love her chicken and egg noodle salad, we all devoured the sweet and savory dish.
Greek Salad with Pan-Fried Haloumi- Between the dry farmed tomatoes and salty, pan-fried haloumi cheese I was in culinary heaven.  Carolyn created such a delicious salad that I had to take some home for an evening snack.
Banana Maple Upside-Down Cake- Rosie's delectable dessert was like banana bread turned up a notch.  Everyone agreed that it would make for the perfect breakfast, "Heat it up and add a slab of butter!" exclaimed Bibby
White Chocolate Mousse with Raspberry Ripple- I didn't want to eat Bibby's dessert because it looked too beautiful, but that feeling lasted about five seconds.  I've never been the biggest white chocolate fan, but this mousse was the ultimate sweet finish to another cookbook club meal.
Next month's cookbook club can't come soon enough, but until then join us in the kitchen at one of our cooking parties or hands-on cooking classes.  Cheers!
Contributed by Krystal Shih