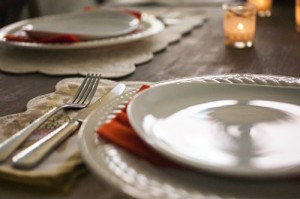 Want to mix things up this Thanksgiving? We've got a few turkey recipes that will help you create a delicious spin on the traditional meal. And not to worry, if you're looking to stick to the usual big bird, we've got that too. Turkey Day aside, these Top 5 Turkey Recipes are fitting for any holiday occasion!
Brined and Roasted Turkey Recipe
The time has come when all of the family gathers around the table for the ultimate holiday meal. You want to make the ultimate turkey. So what do you make? You make this. This is the ultimate turkey. The flavored juice of the brine is infused with garlic, thyme and black peppercorn and the turkey is brushed with a buttery paprika blend. This recipe highly reduces the possibility of Thanksgiving leftovers.
Roasted Turkey and Root Vegetable Pot Pie Napoleon
There's nothing more comforting than a creamy and delicious savory pie. This meal is a great crowd pleaser and a great way to impress your friends and family at dinner parties. With a name like "Napoleon" in the dish, you can't go wrong. The buttery golden flaky crust filled with seasoned turkey and roasted vegetables is covered by a decadent veloute sauce. Garnished alongside a citrus vinaigrette arugula salad, serving up this fancy dish will give you a feeling of true accomplishment!
Sear-Roasted Turkey Breasts with a Mustard Cream Pan Sauce Recipe
This Thanksgiving, find ways to jazz up your turkey with Sear-Roasted Turkey Breasts with a Mustard Cream Pan Sauce. The well-browned crust of seared turkey, drizzled with the elegant creamy mustard sauce with salty and tasty pancetta sauce adds a kick of uniquely satisfying flavor in each bite. "Wow!" your friends and family with this simple yet impressive dish!
Turkey Meatballs with Coconut-Mint Chutney Recipe
Impress your guests with these hearty turkey meatballs, brushed with sweet pomegranate molasses and served with a coconut-mint chutney that packs a punch of flavor! The savory sautéed turkey with fresh ginger and chopped jalapeño brings the heat in every bite, alongside the distinct delightful zing of coconut, blended with cilantro, garlic, lime juice and more jalapeno! These meatballs are incredibly addictive and will have your guests spoiling the main meal! Luckily this dish is a very ideal entrée! Serve them up as sliders or add them to spaghetti!
Turkey Sliders – bonus recipe!
Easy to make and fun to eat, our sliders satisfy appetites of all ages and contribute to a great holiday dinner party. Keep the flavors traditional with Cranberry Marmalade or shock your guests with a deliciously refreshing, yet out-of-the-box Slaw Recipe. The best part: If you're wondering what to do with all that leftover turkey after your Thanksgiving feast, you can still create awesome sliders! These recipes can reinvigorate the driest of turkey leftovers.