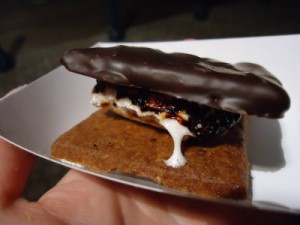 I'm going to be completely honest with you… At Parties That Cook, we LOVE food. (You better not be surprised!!)
To us, every day is like a mini food festival, but this weekend is extra special. The 5th Annual Eat Real Festival is coming to Oakland! <—- This is me refraining from adding ten well-deserved exclamation points. Having made the trek to the other side of the bay the last 2 years, I can tell you first hand: Eat Real is worth it.
With far too many food vendors to sample in one two days, you best plan your route wisely. As I try to hit trucks and vendors I've never tasted before, I've already started making space for Radio Africa, Bacon Bacon, Homeroom, Kasa Indian Eatery, Sugarfoot Grits (YUM — only vendor I'm breaking my rule for), and The Chairman.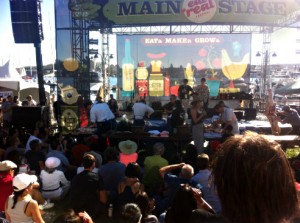 Oh, and don't forget about the sporadic demos happening throughout the day. You'll finally be able to learn about things like butchery (can you say ham tasting?!), butter making, cheese, cocktails, and coffee roasting! And if you simply can't stomach leaving without a souvenir, check out the Craft Market where master food crafters will be selling the best bites (to take home) like jams, jerky, cookies, truffles, cheeses, honey and more. Now that I think about it, one weekend just isn't enough!
But don't take my word for it, taste and see for yourself! You can always stay home and check back here for envy-inspiring food photos!
Is all that awesomeness not your cup o' tea?
1. You're weird. We can't be friends.
2. Check out the 14th Annual World Veg Festival in Golden Gate Park!
UPDATE: Below are some photos from the big weekend. We told you what we'd be aiming to eat — and we did it!