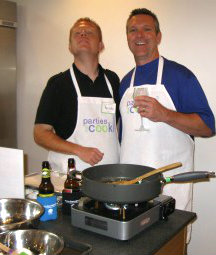 It's time for a recap from our much loved Chicago team! We're giving you the inside scoop on Channel Prime Alliance's corporate team building event last month. Centered Chef, one of our favorite downtown Chicago venues, created the perfect scene for this Kitchen Challenge. Tense beginnings quickly transitioned to a friendly, though competitive, atmosphere. As usual, the group quickly warmed up as they signed their name tags with goofy, made-up names, and helped themselves to appetizers and drinks at the open bar. A great sign of things to come!
To get things started, the Lead Chef went over some basic cooking techniques and terminology. The group listened intently and mentally prepared for battle the meal they were about to cook. It was clear this group had a sense of humor — their favorite part of the demo was the protocol of yelling, "Hot behind!" when traveling with a hot object or opening the oven. And the jokes were just getting started!
Our guests were then split into teams, and the brainstorming and meal-planning began. Channel Prime's event host, Abbie, later reported, "The appetizers were very tasty and the pantry was well stocked. I liked how the more difficult portion of the dessert recipe was already done, so we were set up for success!"
What they cooked:
Chicken Breast
Orzo Pasta
Asparagus
Mexican Chocolate Soufflé
Using the ingredients available, teams went in wildly different directions for their main courses, making for an exciting and delicious competition! Abbie added, "I loved how much all of our guests enjoyed it! The friendly competition went over great and everyone had an awesome time!" This breaking of boundaries illustrates why our corporate cooking parties are so successful. Removal of comfort zones, mixed with a bit of food, is the quickest way to find new ways to work together. BIG thanks to Abbie and her group from Channel Prime Alliance. We really enjoyed working partying cooking with you, and thought your group was energetic and made an awesome team for the event! Every guest is a chef, after all.