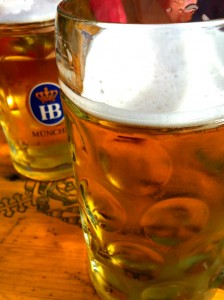 For this insightful post, we're bringing in our expert on the ground in Seattle, Carolyn Peters! She's done her research, sipping, swirling, sniffing, but hopefully not spilling, these fine beverages – all to bring YOU the truth..
Sure, there's coffee brewing in Seattle, but there's also some great craft beer brewing. Let's take a look at a relatively new brewery that's off to a great start.
Just off the beaten path in Seattle's hip neighborhood of Ballard, you'll find Hilliard's Beer serving some of the area's best craft brews. Walking into Hilliard's is a bit like coming home. You're first welcomed by the sweet aroma of beer-making (a light yeasty smell). You then notice the tall windows and updated white interior bringing a much needed brightness in Seattle's winter. These sensations are quickly followed by friendly greetings from the knowledgeable staff who are happy to provide tastings and let you know all about their beers. Hilliard's delicious selection includes amber, IPA, stout, pilsner, Belgian ales and more. Hilliard's beers are featured on the shelves at Trader Joe's in Ballard, and served at the highly-acclaimed restaurant, The Walrus & TheCarpenter.
Hilliard's also boasts a bright and airy taproom set inside their warehouse – once a car dealership! – where you and your friends can enjoy your beers while taking in the action of forklifts moving pallets and pondering the mysteries of large stainless steel tanks (hint: they contain beer in its early stages). The taproom is a great place to lounge, mingle, listen to live music on Thursday nights, or just kick off your evening at their happy hour. Still, I think my favorite component is the wall of Hilliard's beer cans (filled with beer, of course) ready to be discovered, just past the taproom. Quite an impressive and stylish retro design!
Outside food is welcome, so bring your favorite bite, arrange to have a food cart pull up right outside, or join Parties That Cook chefs for a Brews & Bites cooking party! We'll be hosting fun interactive cooking classes in Seattle where gourmet food is paired with a few of Hilliard's beers. There will even be a tasting session during the class! Come learn how Hilliard's brews their beers, brush up on some new cooking techniques, and fill your belly with delicious food and drink. Interested? Details to come!