This Thanksgiving, make a feast fit for a king (or queen!). This classic roasted turkey recipe will have your guests thankful to be seated around your delicious Thanksgiving centerpiece. Note: Brining is optional, if you don't have the time, but trust us, it's well worth the effort.
Thanksgiving Recipe: Brined and Roasted Turkey Recipe
This dish can also be found in our Holiday Recipes Library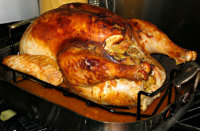 Ingredients
Brine (Optional):
1 1/4 gallons (20 cups) cold water
1 cup kosher salt
1/2 cup sugar
2 bay leaves, torn into pieces
1/2 bunch fresh thyme
8 cloves garlic, peeled and smashed
½ teaspoon black peppercorns smashed
Turkey:
1 12-14 pound fresh turkey, giblets removed and set aside for another use
1 Tablespoon sweet Hungarian paprika (for color)
3 Tablespoons unsalted butter, melted
Methods/Steps
Note: You may halve or double the recipe. The important thing is to prepare enough brine to cover the turkey completely.
Brine (Optional): Place the water in a large non-reactive pot (like a stainless steel stockpot) that can easily hold the liquid and the turkey. Add all the brine ingredients and stir for a minute or two until the sugar and salt dissolve. Put the turkey into the brine and refrigerate for 24 hours. If the turkey floats to the top, cover it with plastic wrap and weight it down with a plate and cans to keep it completely submerged in the brine.
Roast: Preheat oven to 450ºF. Remove the bird from the brine and drain well. Pat dry. Stuff the turkey. Mix the paprika into the butter. Brush the turkey skin with the butter mixture.
Roast, Continued: Place the bird on its back (breast side up) on an oiled roasting rack in a roasting pan. Add enough water so that it is ½-inch deep. Roast in a preheated oven for 25 minutes. Reduce heat to 350ºF and turn the bird on its side and roast 45 minute – 60 minutes, basting before you return to the oven. Turn the bird on its other side, baste and cook about 45 minute – 60 minutes. The turkey is done when the legs and thighs move up and down freely, the juices are clear in the pan and the temperature of a meat thermometer inserted into the thigh reads 160ºF. Reserve the pan juices for the gravy.
Serve: Allow the turkey to stand, tented with foil, for 30 minutes before carving and serving.
Serves/Makes
Serves 12-14 people (1 pound per person)