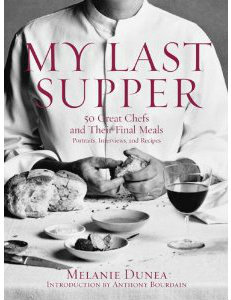 This cleverly themed cookbook club brought our Chicago team together for another tasty – if not a bit morbid- meal together. It was Chef Molly's selection this time around, and she selected My Last Supper: 50 Great Chefs and Their Final Meals by Melanie Dunea. The following guest blog was written by Chef Heidi Kise, and while this last supper may have taken place a few weeks ago, there's no better time to share the eerie recap than Halloween!
"What would you eat for your last supper?" provided interesting fodder to our dinner at the swanky South Loop home of Chef Molly. Would you eat a favorite? Something from your Mom's kitchen?
Or something not easily accessible?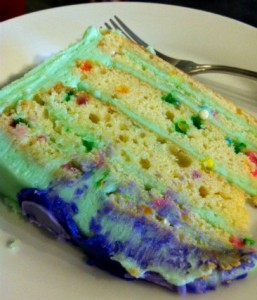 Brandy, Liz, Molly and I each brought a dish from Molly's selection. We began the evening with a beautiful cheese board in Molly style. Read: gorgeous. Our meal of small plates began with a wonderfully warm and homey Wonton Soup made by Brandy. We all supposed that Susur Lee's dish must've been a favorite growing up. The darling plump wontons were filled with shrimp, pork and other goodies. Brandy stayed true to the recipe, resisting the urge to "doctor" the wontons. Unfortunately, we felt the wontons could have had a touch more flavor. A little scallion or chive garnish would've finished it off beautifully. On the plus side, it's quite a filling dish and would be perfect to serve at your next all white party. Much to my surprise, Brandy admitted that she would double down on dessert, and enjoy a nutella-filled crepe and birthday cake for her last meal.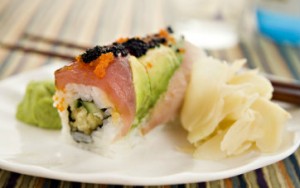 We then moved onto Liz's recreation of Bobby Flay's Cajun Burger. This burger rocked! Coated with a Cajun spice, the burger had just the right amount of kick. Generous layers of pepperjack cheese and crispy prosciutto were an excellent addition. Instead of mayo and katsup, Bobby opted for remoulade. Let me just say, "More, please!" I would have Bobby and Liz collaborate on a course in my last supper, hands down. Liz's last supper would include sushi, her mom's Mexican poblano milk soup (Mmm, sounds interesting). She'd finish it off with a smidge of ice cream – Just a smidge?!
Our host took the bull by the horns and fried up some chicken in bacon grease. This dish, by John Besh, is not for the faint of heart. In fact, if eaten often enough, one would probably be heading down the path to an early last supper. The tender chicken in its flavorful coating was very tasty; Slathering on the bacon gravy was very gluttonous. If recreating this dish, frying at a higher temp might crisp up the coating. We found it interesting that the chef fried the chicken at 250. Could it be a typo?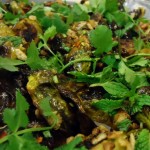 Though not in the book, a highlight of the meal was a roasted brussels sprouts dish with toasted pecans and shaved parm. Along with this bonus menu item, Molly shared her love of ice cream sundaes that began while working at a WI ice cream shop in high school. Ice cream would definitely be Molly's last supper.
Our next dish was a simple yet delicious pasta from Mario Batali. A red sauce with a little kick lightly coated the delicate homemade noodles. A favorite of the group, no doubt. I chose to make this dish, since pasta would be a part of my last supper (not to mention a crab salad with tomato, corn & avocado).
The denouement was Molly's decadent chocolate cake – a replica of the cake she made for her sister's wedding. Fantastic. There's simply nothing else to say – it was seriously that good.
All in all, a clever concept for a cookbook. Thanks to My Last Meal, we enjoyed interesting stories from chefs and a great evening with chef friends.