Happy Friday! For this corporate team building event recap, we thought we'd bring you the story from a different angle. Now, Carolyn takes it away with her first-hand report, all the way from Portland! (Or was it Seattle..?)
We, at Parties That Cook, love a challenge, especially when it involves cooking. So when Bri O., the host of a recent Seattle Microsoft event, requested that we turn their Sumptuous Small Plates dinner into a competition, we excitedly replied, "Absolutely!"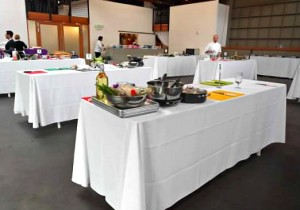 Before long, our team had the 6 cooking stations set up. We welcomed our guests with an antipasti platter and beverages. As guests put on their aprons, they quickly realized that they were about to face off in a cooking competition. Which team would make the best dish using Parties That Cook's recipes? Only time would tell.
Excitement mounted as I explained how the competition would unfold, demonstrating tips and tricks that would come in handy in their cooking and providing suggestions on how to win (best execution, presentation, bribe, etc.)!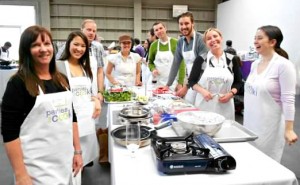 Soon enough, guests were assigned to their teams, had washed their hands, and the cooking had begun! While our inspiring Kitchen Challenge playlist pumped out rockin' tunes, the PTC chefs circulated through the room making sure everyone was having fun and learning new cooking techniques. Our Server, Elizabeth, captured action shots of the guests while they cooked (to be emailed to them the following day), and made sure everyone was staying "hydrated".
Delicious cooking aromas filled the air, and a few staff members at the venue, 415 Westlake, poked their heads in to see what all the excitement was about! One team made fresh Burrata, a delicious creamy version of mozzarella, on Grilled Bread, while another creatively executed mini Philly Cheese Steaks with Gruyere Cheese Sauce (yum!). There were also Little Fish Tacos with Chipotle-Lime Crema, Lettuce Cups with Minced Gingered Chicken and Hoisin, Shiitake-Scallion Potstickers, and Ahi Tuna Tartare in Toasted Won Ton Cups.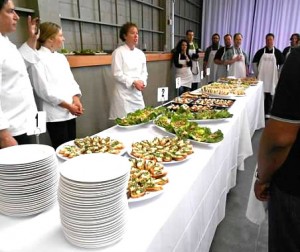 After an hour, the clock stopped and teams artfully plated their dishes for the presentation table. Each team chose their most charismatic member to present their dish and argue why they think they should win. After the presentations, guests were invited to enjoy their own helping of Small Plates. The room was quickly filled with the sounds of "Mmmm".
Meanwhile, the chefs tasted, analyzed and critiqued each team's dish back in the kitchen. The tension was high as the guests wondered how their dish scored. Like always, it was a difficult decision to make. Everyone did an excellent job, but a winner had to be chosen. Ultimately, it came down to the Philly Cheese Steak Team! They executed the recipe very well, worked together when troubleshooting how to get the right sauce consistency, plated up their dish beautifully, and made a second platter with additional toasted bread and cheese sauce (who doesn't extra love bread and deliciously melted cheese sauce??). Congratulations, Philly Cheese Steak Team!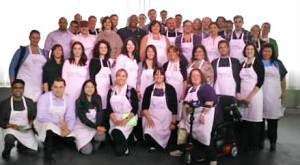 Each team member was awarded one of our More Sumptuous Small Plates Recipe Decks containing 30 of our favorite recipes, easy-to-read and all in one little box. There are even photos on the cards to show you how the dish will look!
Hopefully everyone will be inspired to bring what they learned back to their own kitchens to share with friends and family. We received many thank you's and comments about how unique this event was. We love hearing that! Thank you, Bri, for bringing your Microsoft group to join us in a fun and spontaneously competitive cooking party! Hope to see you again soon!