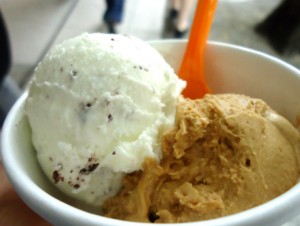 San Francisco is cool, but right now, Chicago is HOT! We know it's been a while, so we thought it's time for another great guest post from Parties That Cook's awesome Chicago team. City manager, Brandy, take it away:
It's been one of the hottest Chicago June's on record – so bring on the ice cream, gelato and custard! I polled our lead chefs to see where they go to cool off and enjoy some sweet treats.
When Chef David isn't working at Girl & The Goat, he gets his fix at Black Dog Gelato. They offer a great selection of out-of-the-ordinary flavors like goat cheese+caramel+cashews or brown butter+bourbon. He also loves Black Dog because it's truly a home grown Chicago business.
Chef Liz, our chef in the burbs, raves about All Chocolate Kitchen in Geneva. According to Liz, they have the best Gelato outside of Italy!  I don't doubt her — All Chocolate Kitchen's gelato is made fresh everyday using natural and artisan ingredients. Swing by for a taste of Stracciatella, vanilla with chocolate traces, Pistachio from the region of Bronte, or a sweet Passionfruit. Yum!
Chef Heidi's favorite spot, Ollie's Frozen Custard, is close to her hometown in DeKalb. She used to go with her parents and now brings her children! Heidi's pick for the best menu item is Black Raspberry Custard, but you have to go on Saturday to get that famous flavor. If you're a chocolate lover, the Turtle Sundae is TDF (high five for anyone who correctly guesses that acronym). All summer long, the custard is served up by local high school students to a long, winding line of dedicated patrons.  They tough it out even while being attacked by relentless mosquitoes! City dwellers who make the journey: If you can't get enough of Ollie's on the spot, they'll pack a quart on ice to take home!
My favorite spot is the famous Margie's Candies. My parents took me there as a kid after White Sox games, and the whole family would share one of their "Jumbo Creations". Oh, memories of the Turtle Tummy Buster… Five scoops of Margie's Famous Ice Cream and a Turtle on top. Over the top? Yes. Worth the 30 minutes wait? Yes. Delish? Oh, yes! I even hear the joint has been visited by Al Capone, and after performing at Comiskey Park, The Beatles dropped by with dates and enjoyed Margie's Atomic Buster Sundaes – a fruit and fudge delight. Nice choice, fellas.
Here's to a long summer of spooning up some of the best!
Thanks for that fun round-up, Brandy! I'm sure mouths are now watering and ice cream cravings have been sparked! Now I'm off to see if there's some way to incorporate ice cream into our cooking classes in Chicago! Date Night, maybe? Brews & Bites?? Cupcake Wars?!