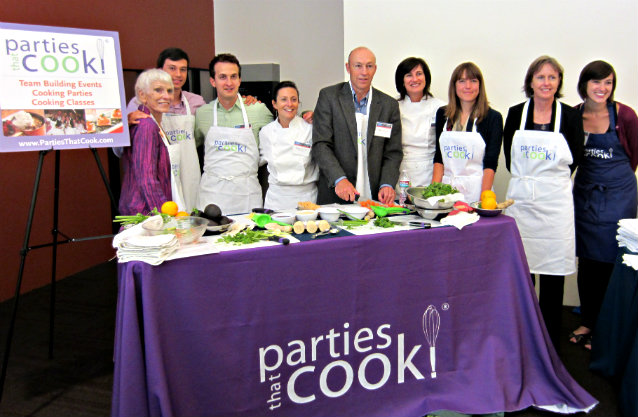 On Wednesday, June 6th, Bibby, Crissy, Kelle and our great new intern, Alaina, participated in the Pacific Community Ventures (PCV) Expo in San Francisco. For those of you who may not know, PCV is a local organization that helps create jobs and economic opportunities in lower-income communities through the support of small businesses. Over 350 guests attend this annual expo and luncheon, and we were excited to introduce them to what we do!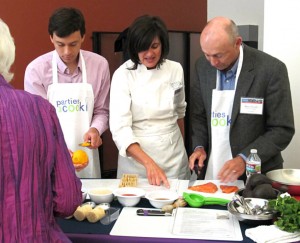 Rather than risk coming across as caterers, we decided to set up an interactive cooking booth. What better way to give folks a taste of one of our events? Attendees mingled through over 50 local company booths and were surprised to find more than just brochures at ours! Donning Parties That Cook aprons, brave volunteers enjoyed a mini cooking lesson while helping us prepare a delicious Salmon Tartare (one of the most popular recipes at our corporate team building events). Of course, Bibby and Crissy were on hand providing moral support and inspiration for the budding chefs.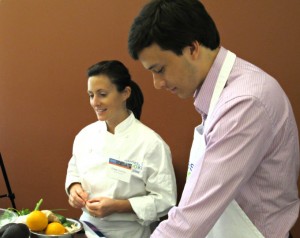 The Salmon Tartare was a huge hit among those attending – all thanks to the amazing guests who volunteered to be put to work at our station! We handed out over 100 tastes of the fresh appetizer, and almost everyone wanted the recipe. Luck you, we're providing it below! We must warn you: You'll want to eat the whole bowl…
When we finally had a free moment, we took a spin around the rest of the room to check out the other booths. With so many interesting small businesses to explore it was hard to make a stop at all of them! Check out photos of the other booths and guests who attended here!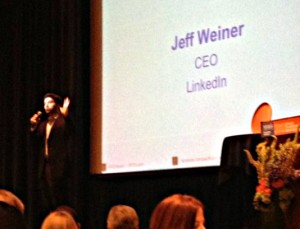 At around 12:30pm, guests began heading to the luncheon where Sanjay Sinha was awarded Advisor of the Year. Our claim to fame: We had the pleasure of working with him briefly on revenue projections a few years ago. Bibby and Crissy particularly enjoyed the keynote speaker, Jeff Weiner, CEO of LinkedIn. They loved that he even referenced the importance of team building in his speech!
And now, the moment you've all been waiting for! Drum roll, please… The fresh, cool, all-around tasty Salmon Tartare Recipe!! We served ours with rice crackers at the expo but feel free to bake your own Wonton cups. If you've got the time to spare, they're definitely worth it!
Salmon Tartare in Toasted Wonton Cups
This recipe can be found in our Appetizer Recipe Library!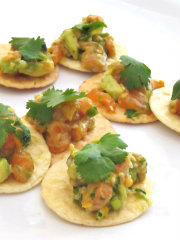 Ingredients
Wonton Cups: (You can substitute potato chips or rice crackers!)
24 Wonton Wrappers
Olive oil spray
Salmon Tartare:
9 ounces sushi-grade salmon, cut into 1/4-inch cubes
2 Tablespoons green onions, green parts only, finely chopped
1 clove garlic, minced
2 Tablespoons cilantro, finely chopped, plus sprigs for garnish
3/4 teaspoon orange zest
1 teaspoon fresh ginger, peeled and grated
2 Tablespoons toasted sesame seeds
2 Tablespoons soy sauce
1 teaspoon sesame oil
1/2 teaspoon Sriracha (red chili sauce)
1/2 teaspoon kosher salt
1 avocado, cut into 1/4-inch dice
2 teaspoons lime juice
Methods/Steps
Preheat oven to 350°F, if not using chips or crackers.
Make Wonton Cups: Spray mini muffin tins with olive oil. Then, spray (or brush lightly) both sides of each wonton wrapper with olive oil and gently place wrappers in mini-muffin tins. Press down the bottom of the wonton to create a flat base. Bake until golden, about 6 minutes. Helpful Tip: The wrappers burn easily so watch them like a hawk! Remove cups from pan and let cool on a cooling rack.
**Alternatively, if you want triangular wonton crisps, cut the wonton squares on an angle to make two triangles. Arrange triangles on a sheet pan. Spray or brush lightly with olive oil on one side. Bake, remove, and let cool.**
Prepare Salmon: Gently slice the salmon, without mashing. Cut the slices of salmon into strips. Again, with a gentle hand, slice (don't push or mash) the strips of salmon into small 1/4 inch cubes. Place into a medium bowl.
Chop Aromatics: Finely chop the green onions, garlic, and cilantro and add to the bowl of salmon. Zest the orange and grate the ginger into the bowl as well. Add the soy, sesame oil, sriracha and salt. Gently mix the tartare and taste. Adjust seasoning if necessary.
Assemble: Right before you're ready to serve, add the diced avocado and lime juice to the salmon mixture. Be sure you do not add these too early! Gently mix. Place a heaping teaspoon of the salmon tartare in each wonton cup. Garnish with a sprig of cilantro. Place on serving platter and serve immediately.
Serves/Makes
Makes 24 Pieces.
Recipe adapted by Parties That Cook® from RavenousCouple.com