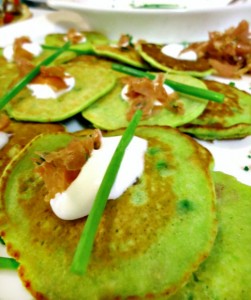 Now that you've handled Cinco de Mayo AND the Kentucky Derby, you've got another big holiday on your radar: Mother's Day. Sure, you can bring what you brought to last year's get-together, but nobody needs to see you eat an entire edible arrangement by yourself…again. This year, keep it classy with Sweet Pea and Mint Galettes. They're light enough to be served with a large spread of appetizers, and delicate enough for the fanciest of tea parties. The best part is, if you have any vegetarians in your group, this dish is completely customizable! Put some of the batter aside, and just nix the prosciutto. The Sweet Pea and Mint flavors, alone, can carry this dish to the head of the table. And hey, if everyone's down with meat, even better.
Are tea parties not your scene? This versatile dish can also be seen in action at our Cooking with Cocktails class in Portland!
Sweet Pea and Mint Galettes with Prosciutto and Sour Cream Recipe
This recipe can be found in our Appetizer Recipe Library!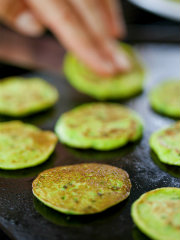 Ingredients
Galettes:
10 slices prosciutto
1 1/2 cups all-purpose flour
3/4 teaspoon baking powder
2 cups frozen peas, divided in half
3/4 cup heavy cream
1 1/4 cups milk
3 Tablespoons unsalted butter, melted
1 teaspoon lemon zest
1 Tablespoon mint leaves
2 1/2 teaspoons kosher salt
3 large eggs, room temperature
1 1/2 teaspoons lemon juice
Canola oil or nonstick spray for cooking galettes
Garnish:
1/2 cup sour cream
1/4 teaspoon kosher salt
1/4 teaspoon lemon juice
Reserved ½ inch pieces of proscuitto
Methods/Steps
Preheat oven to 400ºF.
Cook Prosciutto: Lay prosciutto onto a sheet pan. Place pan in the oven and cook until crisp, about 12 minutes. Let cool. Once cool, chop half the prosciutto into small 1/4-inch bits and transfer to small bowl – will use later for batter. Chop or break the remaining pieces into larger pieces, about 1/2 inch bits and place in small bowl, cover with plastic and set aside to use as garnish.
Mix Dry Ingredients: In a large bowl, mix together flour and baking powder; set aside.
Blend Wet Ingredients: Put half of the peas into a blender. Add the cream, milk, melted butter, lemon zest, mint leaves and salt; blend for 20 seconds. Add eggs, and blend a few seconds more, just until they are fully combined.
Combine Ingredients: Pour pea mixture into flour mixture, add the remaining whole peas and reserved ¼-inch bacon pieces, fold to mix. Add the lemon juice. Helpful tip: Do not over mix or the galettes will be tough.
Cook Galettes: Pour 1 tablespoon of canola oil into non-stick pan or spray with nonstick spray. Working in batches, drop a tablespoon of batter into pan, being careful not to overcrowd. Cook until underside is golden, about 2 minutes. Turn pancakes over and cook until other side is golden and pancake is cooked through, about two minutes more. Transfer to a cooling rack over a sheet pan. Repeat with remaining batter, adding more canola oil as needed between batches.
Mix Garnish: Combine sour cream, salt, and lemon juice.
Serve: If necessary quickly re-warm pancakes in the oven. Remove from oven and top each pancake with a dollop of sour cream and a piece of proscuitto that was reserved for garnish. Transfer pancakes to a serving platter. Serve immediately. Recipe created by
Serves/Makes
30-35 2-inch Galettes
Recipe created by Parties That Cook® | www.PartiesThatCook.com