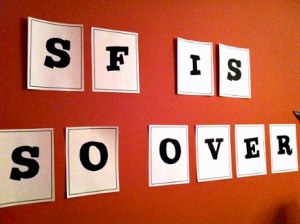 As many of you know, the San Francisco office recently said goodbye (for now) to our Operations Manager, Carolyn. While still working with Parties That Cook, she just happens to be living in Portland! Since most of us have never been to Portland, we were super excited to hear about life in the City of Roses, aka Bridgetown, aka Beervana, aka P-Town, aka PDX! Here is Carolyn's first-hand account of Portland nightlife.
One of the great things about Portland (and there are many) is the range of nightlife it has to offer! While building the business in Portland last summer, Bibby and I just so happened to discover Portland's nightlife. You can find everything from barista-style bourbon cocktails at cozy Kask, to toe-tapping, sailor-dancing live music at the Laurelthirst, and grooving 80s music on the Crystal Ballroom's spring-loaded floor. Portland has something for whatever mood you're in! Now that I call Portland my home, I'm happily carrying on in search of more Portland gems. I'd love to take you on a virtual tour!
Let's start with happy hour, shall we? I'm finding that Portlanders love happy hour because EVERY place offers some sort of special. That sure makes me…well, happy! Starting in the Nob Hill neighborhood aka Alphabet District (because the street names are in alphabetical order), or Trendy-Third (because 23rd Ave is filled with hip and happening shops, restaurants and cafes):


23Hoyt is a great gastro-tavern with a clean modern look and natural wood accents (still figuring out the difference between gastro-tavern and gastro-pub). I met a friend there recently for a delicious Basil Margarita. We noshed on Bacon, Egg and Cheese Deviled Eggs, Tempura-fried Green Beans with Spicy Aioli, and White Cheddar Cheeseburger on Rosemary Bun with Aioli. Yum!
Casa del Matador is a spacious and lively Latin-themed restaurant with big sweeping bar. I happily saddled up to the last available seat at 5pm on a Friday. Both the Blackened Fish and Braised Pork Tacos I ordered were delicious. I paired these with the house Margarita, also delicious and went down easy, which meant ordering a second!
Over in the NE, happy hour might look like Vintage Americana (think Portlandia's Dream of the 1890s video) as you step into the romantically lit and cozy Secret Society and order up classic, old world cocktails like Kubler Absinthe or Moscow Mules. You can also find hearty, house-made cured meats, pickles, and grilled cheese sandwiches. This is a great place to stop in for a drink while waiting for your table next door at the high-energy Toro Bravo.
If you've ever been to Portland, you've most likely experienced one of the McMenamin's bars, restaurants, hotels, theaters or clubs sprinkled throughout Portland and the surrounding areas. Each McMenamin's is unique in that they restore beautiful old buildings, creating fun places to eat, drink, hear live music, watch movies, and dance — It's the the decor that makes McMenamin's what they are. One of my favorites is The Bagdad Theater, among the most unique movie theaters ever. Fun fact: All McMenamin's theaters are equipped with signature food and beverages, which you can enjoy in the theater — how cool is that? Other favorites are The Back Stage Bar, where you feel like you're in another world (or maybe on a movie set), and The Chapel Pub, where you can enjoy a burger and brew in church pews while listening to live organ music.
After happy hour, you might be in the mood for live music. With numerous venues around the city, you're bound to hear great rhythms wherever you go. Here are a couple of suggestions for those on the hunt for live music:
Laurelthirst Public House – when you walk into Laurelthirst, you know everyone's there to check out the music, get some dancing in, and enjoy one of the many local beers they have on tap. Our last time there, we were lucky enough to hear Rob Stroup and The Blame on the little starry stage, join in the dancing with the locals, and witness a woman dressed in a sailor outfit (it's Portland, so anything goes!).
Another great place is the White Eagle Saloon, a McMenamin's establishment that's reportedly haunted by past residents of the old hotel upstairs – Yikes! On a spontaneous venture to find live music on a Friday night, a friend and I got to hear Lucy Wainwright perform there, which was a real treat. We didn't experience anything ghostly that night, thank goodness.
If, after the music and dancing, you're hungry for more, head to the Doug Fir Lounge at the Jupiter Hotel for their fresh take on comfort food. This place is all about Northwest retro-chic, with fire-lit lounges to get cozy by. You can also enjoy the modernized diner fare at the log cabin-style restaurant with a glass mounted moose head to keep you company.
For those of you after a more cultural adventure, The Portland Art Museum offers evening hours on Fridays (the last Friday of the month is free!), and strategically parked right outside their courtyard entrance is Koi Fusion food truck and Captured by Porches Beer Bus! Genius. I'm not normally an IPA kind of girl, but something (maybe a little birdie?) told me to sample theirs. I have to say, I think I'm converting to an IPA drinker! Delicious. The Korean burrito with kim-chi rice was a nice way to finish the evening – I will definitely follow them around.
So there you have it, a few gems of the Portland nightlife. This is just the beginning, and the list is long. Once the warm weather hits, the outdoor spaces will be hoppin' like the IPA in my hand. More tales to come!