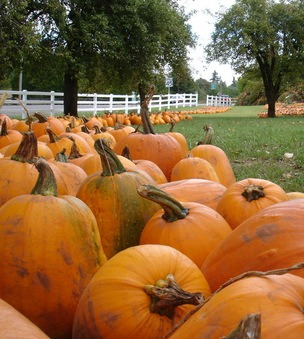 Halloween weekend is almost here. Get ready for parties, costumes, candy and more parties! Whether you're hosting, or just attending, you're going to need some sweet reinforcements. We're arming you with a great go-to recipe that's sure to please through the entire holiday season! (We're talkin' Halloween, Thanksgiving AND Christmas!) See this recipe in action at our Thanksgiving Boot Camp: Desserts cooking class!
Looking for something a little more… savory? Check out our upcoming Thanksgiving Boot Camp: Appetizer and Entree classes, starting as early as this Tuesday, November 1st! The same great appetizer menus (including Mini Apple, Roquefort and Caramelized Onion Pies with Honey – YUM) will be featured in Chicago, San Francisco and Seattle.
Mini Pumpkin Roulade Filled with Ginger and Cream Cheese Frosting Recipe
This recipe can also be found in our Dessert Recipe Library!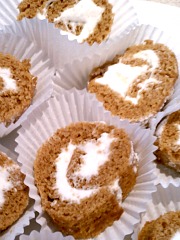 Ingredients
Cake:
1 1/2 cups AP flour
1 teaspoon baking soda
1 teaspoon baking powder
2 teaspoons cinnamon
1 teaspoon ground ginger
1/2 teaspoon ground nutmeg
1 teaspoon kosher salt
5 eggs
2 cups granulated sugar
1 1/2 cups canned pumpkin (not pumpkin pie filling)
1 cup powdered sugar for dusting cakes
Ginger and Cream Cheese Frosting:
8 oz cream cheese, softened
1 cup powdered sugar, plus 1 cup more for sifting on top of roulade
1/2 teaspoon vanilla
1/2 teaspoon kosher salt
1 Tablespoon ginger juice, from about a 2 inch piece of ginger
2 cups heavy cream
Prepare Pan:
Nonstick baking spray
Parchment paper
AP flour for dusting
2 13×18 inch half sheet pans
Methods/Steps
Prepare Pans: Spray the sheet pans heavily with nonstick spray. Cut a piece of parchment paper to fit into the bottom only of the sheet pans. Spray paper with the nonstick spray and dust the entire pan well with flour. Tap out the excess flour and set aside.
Preheat oven to 3750ºF.
Mix Dry Ingredients: In a medium bowl, whisk the flour, baking soda, baking powder, cinnamon, ginger, nutmeg and salt.
Make Batter: Crack the eggs into another bowl and add the sugar. Using a hand or stand mixer, whip the eggs and sugar on medium high speed for at least 3 minutes or until thick, light yellow and almost double in volume. Turn the mixer to low and add the pumpkin. Mix well to combine. Add the flour and mix gently, just until incorporated. Do not over mix or cake will be tough. Use a rubber spatula to finish mixing the bottom of the batter.
Bake Cake: Divide batter among the sheet pans (about 4 cups of batter per pan) Using an offset spatula, gently spread the batter, evenly, into the pans. Bake cake for 10-12 minutes.
Prepare Rolling Surface: While cakes are baking, place a piece of parchment paper (same size or slightly bigger than cake) onto a cutting board or work surface (one piece of parchment is needed per pan of cake). Generously dust the parchment with powdered sugar.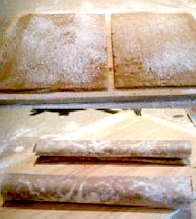 Roll Cake: This step must be done while the cake is still warm. Remove cake from oven and loosen the edges of cakes with a knife or bench scraper. Immediately invert the cakes onto the sugared parchment. Gently peel off the layer of parchment paper baked onto the cake and cut the cake in half down the middle. While the cake is still warm, generously dust the top with powdered sugar. Gently roll the cake and parchment into a long tube. Place the cake roll seam side down onto a work surface and let cool, about 10 minutes.
Make Frosting: Using a hand mixer, beat cream cheese, powdered sugar, vanilla, and salt until the cream cheese is light and fluffy.
Add Cream: Slowly start to add the cream while beating (If added to fast you may get lumps). Whip until cream is thick, doubled in volume and holds stiff peaks.
Frost Cakes: Gently unroll cakes. Divide frosting (about 1 cup frosting per roll) and frost evenly over cake. Gently re-roll the cake without the parchment this time. Again, dust top with powdered sugar to hide any cracks.
Cut Cake: Trim the edges if necessary. Cut the rolls into 12 pieces each. Place the pieces into cupcake liners and serve.
Serves/Makes
Makes about 48 large pieces
Recipe created by Parties That Cook® | www.PartiesThatCook.com