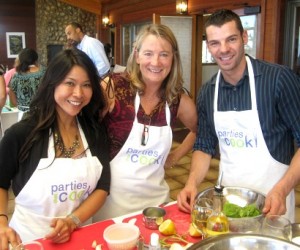 In the last couple of weeks, we have seen no lull in our busy streak. On Friday, August 5th, BioMarin Pharmaceutical Inc. (BMRN) hosted a fun Sumptuous Small Plates corporate team building event. Lead Chef, Laura, reported that the event ran smoothly and she thought it was a really nice group. She added that the guests were "excited about what the event had to offer and were proud of their work." As they should be!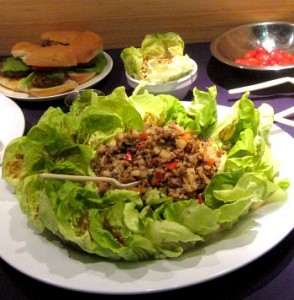 The mouthwatering menu consisted of such delicious items as Lettuce Cups Filled with Gingery Pork, Shiitake Mushrooms and Hoisin Sauce, Ground Sirloin Sliders with Smoky Cheddar Cheese, Little Fish Tacos with Tomato Salad and Chipotle-Lime Crema, Crostini of Homemade Ricotta and Roasted Red Bell Pepper Jam and Banana and Mango Spring Rolls with Caramel-Rum Sauce. I'm getting hungry already!
Chef Laura's words were mirrored by the BMRN host, Paul F., who commented that, "It was just overall fun, with a great atmosphere." This is not hard to believe, since Paul had selected, Zephyr, a beautiful San Francisco showroom, as the venue!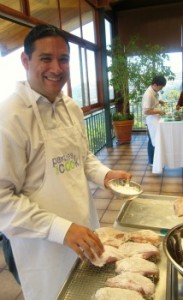 The following Monday, August 8th, repeat client Genentech hosted a high-energy Kitchen Challenge team building event at Thomas Fogarty Winery. Linda B., the Genentech host, best described the atmosphere as "controlled chaos". Linda also reported, "Everyone told me it was great fun and they loved this activity," – a fun way to end a morning of meetings! She found that the best part was "the opportunity to work with people on our team that we typically don't have the chance to interact with on a fun task. I got to know some people better from a different perspective." Mission accomplished!
Lead Chef, Scott, hit another one out of the park! It's no easy task to engage people just out of a 3-hr meeting. Chef Scott and the rest of the PTC team guided guests through an event with NO recipes (the norm for a Kitchen Challenge). Linda commented that the guests created some terrific dishes, "everything the participants wanted or needed was provided… The staff was very responsive and right there when we had questions or needed help — good direction and handy preparation tips." Nicely done, PTC team!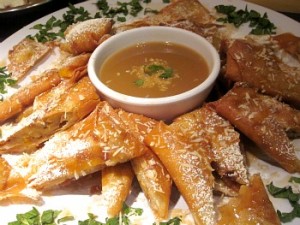 What a great sign of things to come as we slowly approach the busy Holiday Season!
We love hearing about all the fun in the field! If you would like to see your Parties That Cook event featured in our blog, just let us know!