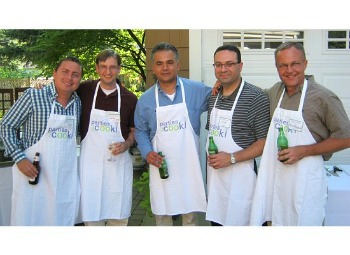 A couple of weeks ago, Parties That Cook knocked out 11 events in 3 days… Last week was no different! Tuesday, Wednesday and Thursday were filled nearly to the brim with corporate team building events, public cooking classes and recipe testing! Sneaking in right before the madness began was a Monday evening corporate event hosted by Wrigley. The company opted to entertain all 24 guests in a private home in Chicago.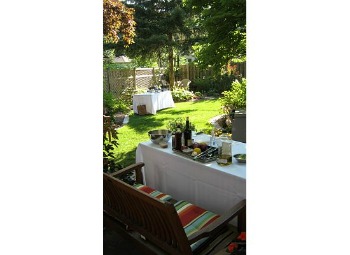 Guests arrived from Mexico, Canada and all over the U.S. for this Chef's Table event. Brandy, our Chicago Operations Manager and Chef Instructor, led the guests through a quick cooking demonstration outdoors before splitting the group into teams. Don B., the Wrigley host, worked with Beth, one of our great event planners, to create a custom menu. The result was a complete success! Guests enjoyed the Italian options like the Savory Plum and Thyme Bruschetta with Shaved Pecorino Romano Cheese , Flash Fried Cornmeal Calamari with Sauce Arrabbiata and a Warm Chocolate Budino with Raspberry Sauce. They also liked dishes from our Taste of Napa Menu, including Chilled Vegetable Gazpacho with Spice Watermelon Relish, Grilled Filet Mignon with Ricotta Salata Salsa Verde and a Savory Garlic and Cherry Tomato Strata. All great choices!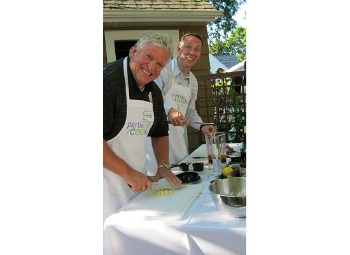 In the end, Brandy reported that the guests loved the event! They were really invested in their recipes, and after the meal, many guests made a point to let Brandy know what a great time they had – we love that! Don reported that the best part was "seeing what my coworkers created, then eating it. This was successful because the team definitely worked together and enjoyed the evening… It was fantastic." What great feedback!
Want to see your event featured in a blog? Let us know! And we'll keep you posted with more event blogs in the future!