Parties That Cook is all about making event dreams come true. In our 12 years of business, we have accommodated some pretty off-the-wall requests. (We even created a new event, per request!) So when we got a call from a PwC event planner asking if we could host a corporate team building event in Portland, OR, we were up for the challenge!
To be fair, the rumors of an impending Parties That Cook launch in Portland later this summer are in fact true, so this request felt like a wonderful affirmation, albeit a challenge to pull off! Carolyn, PTC's Operations Manager and amazing Lead Chef, offered to lead the event with the help of Crissy, our Vice President of Sales and Marketing and a wonderful chef, as well! Luckily, our completely mobile kitchen concept allowed us to transport everything we needed from San Francisco to Portland, including 30 brand new chefs knives. The venue, KitchenCru, is a gorgeous new commercial kitchen space in the heart of downtown Portland and they provided the bulk of the cookware. With this team and a great new venue, we were set up for a successful event!
The PwC group elected to host a Small Plates event with a competitive twist — and it was an intense competition! (All in good fun, of course…) Teams worked together on different small plates recipes and a group of 6 managers and partners from PwC were the judges. During the cooking, judges walked around the stations to observe participants interacting with each other. At the end, the judges conducted a great follow-up session, asking everyone how their experience working together tied into the PwC company values they'd been learning about during their week of recruit activities.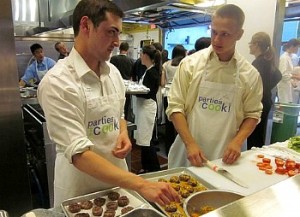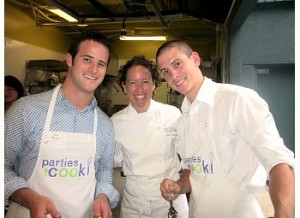 The judges, who had experienced a Parties That Cook event in Seattle in the past, thought this was one of the most creative groups they'd seen! They loved the presentation of the Fried Vegetable Samosas with Indian Green Chutney and that the Little Fish Tacos with Tomato Salad and Chipotle-Lime Crema team garnished their platter with the letters PWC made from cilantro stems.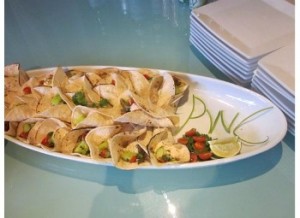 In the end, however, the winning team was the Ground Sirloin Sliders with Smoky Cheddar Cheese. They worked well together, went above and beyond the call of duty with grilled buns, and created a great presentation.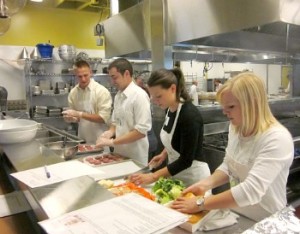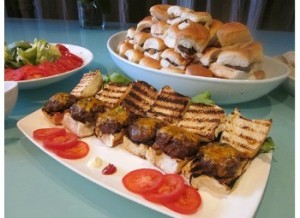 We are thrilled that our first Portland team building event was such a hit, and surely hope that it's a sign of good things to come! Now stay tuned for that "official" launch…