I'm of the opinion that (good) things are better late, than never. In sticking to my beliefs, and ignoring the option of being on time, I bring you a PTC Cookbook Club of the past! Let's just say I was saving it for a rainy day…
This last cookbook club featured The Essential New York Times Cookbook: Classic Recipes for a New Century. Featured in Amazon's Best of 2010 Book Section, this cookbook boasts recipes from many a noted chef, as well as renowned kitchens and New York Times writers. Once again, because of the sheer mass of this book and the great variety of recipes found within (over 1,000!), we came together for an assortment of dishes.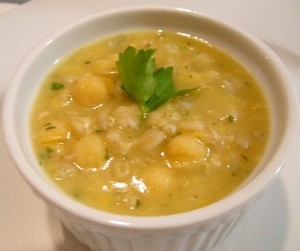 Creamy Farro and Chickpea Soup. A great start to the lunch, Carolyn's soup was delicious! This Paula Wolfert recipe is super simple – a well-deserved break for Carolyn after her last Cookbook Club endeavor. There was definitely enough left over for the entire office to have lunch the next day (and we took advantage). For an online version of this recipe, go here!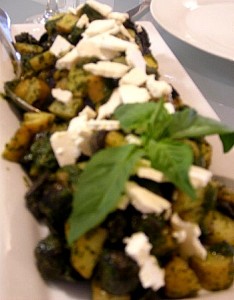 Potato Salad with Shaved Ricotta Salata and Green Sauce. Rosie solved the mystery: the green sauce is basically a pesto. And just so we're clear, Fetta makes a wonderful substitute for Ricotta. I was not the only one eager to revisit this dish in the fridge the next day – everyone loved it!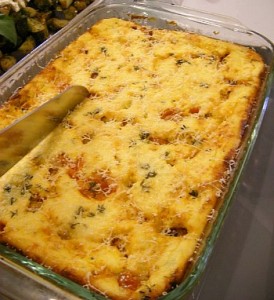 Sformata di Ricotta: Cassandra was a bit disappointed with the resulting tomato and ricotta pie/tart. When she selected this recipe, she was expecting bolder flavors and hoping for tastes of tomato in every bite. This lead to the conclusion that it would be good to note the seasonality of ingredients included in each recipe. Still, everyone enjoyed the dish, and I found myself heading back to the fridge for more tastes of the sformata! For an online version of this recipe, click here!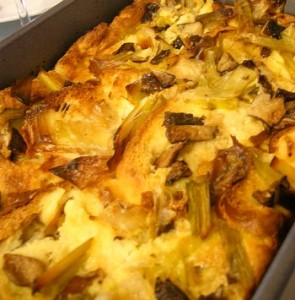 Leek and Shiitake Bread Pudding: Due to either lack of ingredients or cooking equipment, Traci did some major off-roading on this recipe. She must be the MacGyver of cooking, because, BOY did it pay off! I would be glad to find this dish on my table any day, though we all wondered how the original dish would compare. Another delicious bread pudding recipe can be found in our Side Dishes section!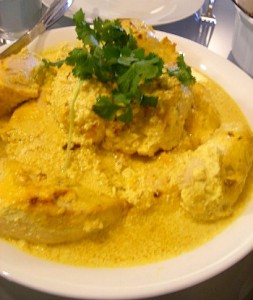 Chicken Roasted with Sour Cream, Lemon Juice and Mango Chutney. Bibby tried her best to stick to the recipe, and despite some minor adaptations, she succeeded! The chicken had the perfect texture, and the flavor was great – not too bold to share the table with the variety of dishes we had. We couldn't tell there was mayo in the recipe, though that's probably for the best. This dish (which yields A LOT) makes excellent leftovers!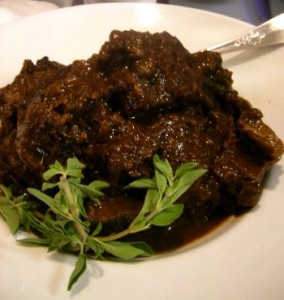 Orange-Braised Short Ribs with Fennel and Oregano. Crissy did an outstanding job on these short ribs! I was in love, and I doubt I was alone. The meat was perfectly tender, and the flavor was spot on! What more can I say?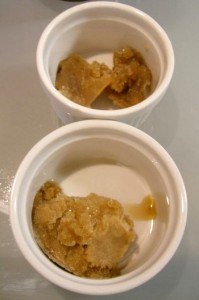 Clove granite: An incredibly light frozen dessert with a unique flavor. If you're expecting Ice Cream, leave now (at least you made it to dessert!), clove granite is more like a slushie. We got to try TWO versions because after Erin completed one (off-roading), she decided to stick to the recipe, and redo it! To me, the result of using light brown sugar is not all that different from dark brown sugar, though many preferred the off-roaded version!
I must say, Cassandra did a nice job in selecting this cookbook! It's definitely one for the wish list. With so many recipes available, it's not only hard to decide where to start, but it would be hard to finish! It's amazing that Amanda Hesser tried them all in about two and a half years! The next cookbook on the menu: The River Cafe Cookbook by Rose Gray and Ruth Rogers. Stay tuned!