It's a beautiful day in the neighborhood. People are out and about (if not at work) making their Cinco de Mayo plans – and there are plenty of options! From authentic Mexican restaurants and drink specials, to street festivals on Thursday, Friday and Saturday (Zumba-thon included), finding something to do is easy! If you find yourself in San Francisco tonight, you can even come out to the Ferry Building and support CUESA and La Cocina at Hecho En San Francisco! Olé!
If you would rather celebrate at home, invite your friends and their appetites as Parties That Cook brings THREE Mexican recipes to the table!  Introducing our tres amigos that, together, create a killer Cinco de Mayo menu (recipes below):
The Appetizer: Pork Taquito Cups with Avacado and Sour Cream
The Main Course: Chipotle Garlic Chicken Breasts with Cilantro
The Dessert: Cinnamon Churros with Mexican Chocolate Dipping Sauce Recipe
Pork Taquito Cups with Avocado and Sour Cream Recipe
This recipe, and others like it, can be found in our Appetizer Recipe Library!
Ingredients

24 won ton wrappers
Olive oil spray
1 Tablespoon extra-virgin olive oil
1/2 medium white onion, finely chopped
1 pound ground pork
3/4 Tablespoon ancho chile powder
1/4 teaspoon dried oregano
1/4 teaspoon cumin seeds, toasted and ground
1/8 teaspoon cinnamon
Pinch of allspice
1 small chipotle in adobo, seeds remove and finely chopped
½ teaspoon adobo sauce
1 1/2 teaspoon kosher salt
1 Tablespoon cider vinegar
1 teaspoon lime juice, plus additional wedges for garnish
2 Tablespoons minced cilantro, plus more for garnish
1/2 cup Monterrey Jack cheese, grated
1/2 cup sour cream
1/2 avocado, cut into ¼-inch cubes
Methods/Steps
Won Ton Crisps: Preheat oven to 350°F. Spray won tons with olive oil and put wrappers in mini muffin tins. Bake for 10 minutes or until golden. (Can burn easily so watch carefully).
Taquito Filling: Heat olive oil in a medium sauté pan over medium heat. Add onion and pork. Cook until onion is translucent and soft, about 5 minutes and the pork has rendered its fat. Drain off the fat. Return to heat and add chile powder, oregano, cumin, cinnamon, allspice, chipotle, adobo and salt. Cook for 30 seconds. Add vinegar and lime juice. Remove from heat and add cilantro.
Assemble: Scoop a generous tablespoon of the pork mixture into the won ton cup. Sprinkle with some shredded cheese. Transfer cups to a warm oven to let the cheese melt. Once out of the oven, sprinkle with cubes of avocado and spoon a small dollop of sour cream on top. Garnish with a tiny lime triangle and serve immediately.
Serves/Makes
Serves 24
Chipotle Garlic Chicken Breasts with Cilantro Recipe
This recipe, and others like it, can be found in our Main Dishes Section!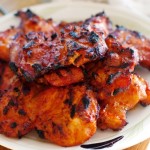 Ingredients
Brine:
2 quarts water
1/2 cup kosher salt
1/2 cup sugar
2 garlic cloves, smashed
1 teaspoon black peppercorn, coarsely smashed
8 6-ounce boneless chicken half breasts, skin on, tenders removed
Canola oil for searing
Chipotle Garlic Cream Sauce:
1 head garlic
1 Tablespoon extra-virgin olive oil for roasting garlic and 1 Tablespoon to sauté onion
1 yellow onion, coarsely chopped
2 teaspoons cumin seeds, toasted and ground
2 chipotle chiles in adobo, seeds removed
1/2 cup crème fraîche
1 cup cream, reduced by half
1 cup chicken stock, reduced by half
1 1/2 teaspoons kosher salt
1 teaspoon lemon juice
1/4 cup cilantro leaves, chopped
Garnish:
Cilantro sprigs

Methods/Steps
Preheat the oven to 450°F.
Brine: Mix water, salt, sugar, garlic and black peppercorns. Immerse the chicken in the brine and refrigerate for 1/2 hour-1 hour. Remove from the brine and pat dry.
Roast the Garlic: Take a head of garlic and cut off the top of the stem end. Place the garlic bulb in a piece of foil and drizzle it with 1 Tablespoon of olive oil and sprinkle with salt. Wrap it tightly and roast it in a preheated oven until completely soft and caramelized, about 30-45 minutes. Let cool slightly.

Prepare Chipotle Garlic Cream Sauce: Heat 1 Tablespoon olive oil in a sauté pan. Add chopped onion and sauté until soft, about 3-5 minutes. Add the toasted and ground cumin and cook 1-2 minutes. Transfer the onion/cumin mixture to a blender. Squeeze the garlic bulb into the blender. Add the chipotles (with seeds removed), crème fraîche, reduced cream and chicken stock, and salt. Process until pureed, about 2 minutes. Pour the puree into a saucepan. Set aside.
Sear then Roast: Preheat an outdoor grill or an indoor, ridged grill until very hot. Brush the grill with canola oil. Place the chicken breasts, skin side down on the grill. Top with a baking sheet with the rim facing up. Place a brick on the top of the baking sheet and let cook until golden, about 3-5 minutes. Remove the brick and baking sheet and transfer the chicken to a sheet pan, browned side up. Finish browning the remaining chicken breasts then transfer the chicken to the oven. Roast chicken in the oven until a knife inserted in the center encounters no resistance (about 150ºF), about 10-15 minutes.
Finish Sauce: Bring chipotle garlic cream sauce to a simmer and cook over low heat for 5 minutes. Remove from heat and add the lemon juice and chopped cilantro.
Serve: Place a chicken breast on the plate and ladle 3 Tablespoons of sauce on top. Garnish with a sprig of cilantro and serve immediately.
Serves/Makes
Serves 8
Cinnamon Churros with Mexican Chocolate Dipping Sauce Recipe
This recipe, and others like it, can be found in our Dessert Recipes Library!
Ingredients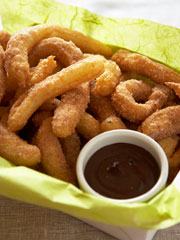 Churros:
6 quarts canola oil, for frying
1 3/4 cups water
2 sticks (1/2 pound) unsalted butter
1 teaspoon kosher salt
1 1/4 cups all-purpose flour
4 large eggs
1 large egg white
Plastic wrap
Cinnamon-Sugar Topping:
1 cup granulated sugar
2 teaspoons ground cinnamon
Chocolate Sauce:
1 cup heavy cream
1/4 cup milk
2 ounces bittersweet chocolate, finely chopped
3 ounces Mexican chocolate, finely chopped
1/2 cup sugar
1 teaspoon vanilla extract
1/8 teaspoon cayenne
1/2 teaspoon kosher salt
Methods/Steps
Prepare Batter: In a frying pan, heat the oil to 375°F. In a large saucepan, bring 1 3/4 cups of water to a boil with the butter and 1 teaspoon of salt. Remove from the heat, add the flour and stir vigorously until incorporated. Using an electric mixer beat the dough at low speed for 1 minute, just until slightly cooled. Increase the speed to medium-high and beat in the eggs and egg white, one at a time. Transfer the dough to a bowl, press a sheet of plastic wrap directly on the surface and put in the freezer until cooled to room temperature, about 10 minutes. Scoop the dough into a large pastry bag fitted with a large star tip.
Topping: In a bowl, mix together sugar and cinnamon.
Fry Churros: Set a cooling rack on a half sheet pan. Squeeze 4-inch lengths of the dough into the hot oil, cutting them off with a knife. Fry about 6 churros at a time; they expand as they cook. Turn over once or twice, until browned, about 4 minutes. Drain the churros on the rack for 2 minutes then dust with the cinnamon sugar.
Make Chocolate Sauce: Meanwhile, in a large saucepan, heat the cream and milk until small bubbles appear around the edge. Add the chocolates, sugar, vanilla, cayenne and salt. Whisk over low heat until the chocolate is melted. Keep warm over very low heat.
Serve: Serve at once with hot chocolate sauce.
Serves/Makes
Makes 24