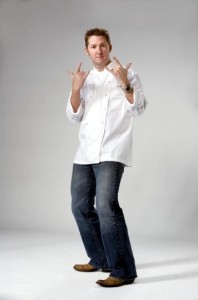 Finally, the episode when Tom spits something out has arrived! With the amount of commercials that that clip was running on, I felt that it was the Olympics, but I guess you could consider Top Chef an Olympic-like showdown.
The guest judge for this episode was Tim Love, who is the owner of the Lonesome Dove in Texas. He brings traditional southwestern rural food into a more formal dining arena. With that reputation, I think the chefs began to know what they were in for. Padma reveals that the viewers voted to decide the quickfire. They were to choose between rattlesnake, cactus, and kangaroo. I was expecting snake, but maybe I'm underestimating my fellow viewers. The quickfire challenge turns out to be "make something succulent with cactus". It is a high stakes quickfire and the winner wins 15,000 dollars. Many of the chefs were a bit overwhelmed with the challenge because working with cactus does not come up in everyday life, if ever. It has a very gooey and slimy consistency that could be difficult to get rid of. Mike introduced the idea of curing it by submerging it in salt so the liquid inside of the cactus is taken out.
At the end of the 45 minutes, Tim comes in to judge the plates. His least favorite plates were Ash, whose dish had no cactus flavors and also had a tortilla that was much too thick, Michael, whose dish he described as two trains coming together, and Ron, whose fish was overcooked and the crab tasted rancid. His favorites were Laurine, Mike, and Mattin. Tim Love gave the win to Mike, saying that he showcased the cactus the best and that preparing it in a classic way really worked for him.
Continuing on the Southwestern theme, the elimination challenge is for them to prepare lunch outdoors on a ranch for two dozen cowboys. They can do anything they want, as long as it is high end. The cheftestants are frustrated because the mystery of their working environments left too much to the imagination. Although, the chefs who have more experience with catering probably have the upper-hand since they are a little bit more accustomed to not knowing their working conditions. But as they drive up to the Sandy Valley Ranch, the chefs swear and curse the top chef gods above. As they settle into their surroundings, Ron is breaking down trees and keeping away the snakes, Jennifer sprays everything with bug spray, and Eli worries that his girlfriend will think that this means he will go camping with her and leave the safety of a roof and hair gel.
The next morning, the chefs are given an hour and 15 minutes to make their meals with four fire pits, some cast iron plans, and crappy plates. These are not the conditions that any of the chefs want to work in, and they are not conditions that are good for food.
When it came down to it, the judges favorites were Laurine, Ashley, Michael, and Bryan. Ashley was applauded because cooking fish in that type of environment is very difficult. This was her strongest dish yet! Bryan had a very focused dish that was restaurant quality but perfect for outdoors. Tim Love liked the way Laurine used the grill and incorporated the flavors into her dish. The simplicity of it really made her dish shine. Michael wanted to bring white table cloth ingredients to a non-traditional environment. The chefs said it was cooked well, the flavors worked well together and it was very unexpected. Bryan comes out with his third elimination challenge win! He even gloats that he wins over his brother every time they are at judges table together.
Now for the gauntlet. Robin, Rob, and Mattin are called into judges table. Robin starts off by saying that BBQ was the first thing that came to mind with a ranch challenge. She wanted to play off the idea of steak. Tim Love points out that she was explaining a very different dish than what she served them. The shrimp was not good to the point of them not being able to eat it. They recognize that it was a good concept, it was just not executed well. Mattin is stunned that he is in the bottom, and this frustrates the judges even more. Tom explains that there were chunks of raw cod in his ceviche and it was very poorly put together. Tom spit out the bite he had and Tim said he was feeling sick after eating it. Ron's ceviche was good, and he probably would not be in the bottom had he not made the drink. He made a coconut drink that was "one of the worst things the judges ever tasted".
In the end, Mattin's ignorance of his bad dish got him sent home. We have lost both of our home court chefs (Preeti and Mattin)! Maybe if the chefs had our delicious cactus recipes from Bibby's trip to Mexico, they would have taken that top spot!
Contributed by Leigh Hermansen