I recently took a series of cooking classes while on vacation in San Miguel Mexico. My first cooking class was so much fun that I left wanting more. I chose a class in the home of a local San Miguel resident named Reyna.
Reyna picked me up at my hotel and drove me to her home which is about 15 minutes from the center of San Miguel.  At first, I was disappointed to find the whole class revolved around cactus (nopales).  But curiosity got the best of me when I saw that she was going to make a dessert out of cactus!
I had never worked with cactus before and was intrigued.  For years, I had seen it in the produce section at Whole Foods but shied away from it simply because I had no idea what to do with it.  When you buy it at the market, the prickles are still intact.  You have to carefully remove them by going the opposite direction with a sharp knife (you might even want to use thick rubber gloves or a plastic baggie to protect your hand).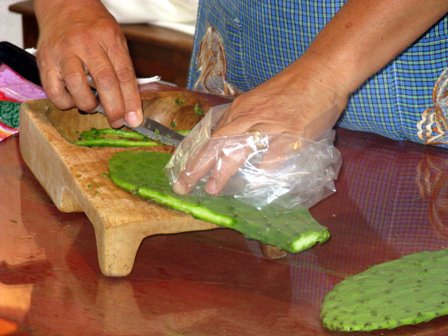 If the prickle is pointing to the right, cut underneath it going to the left.  Once all the prickles are removed, you can cut it into strips.  Inside is a gooey substance with the texture of aloe.  Sauté the strips in butter or olive oil until all of the liquid has evaporated, about 10 minutes.  The cooked cactus has a meaty texture like a thick roasted pepper and a slightly acidic taste (like a Poblano chile topped with freshly squeezed lime juice).
We started the class with a refreshment called Agua de Jamaica (Ruby Red Hibiscus Flower Water) For a fun twist, Yolanda added red wine turning it into Sangria.  Hey I'm on vacation – why not have a morning cocktail!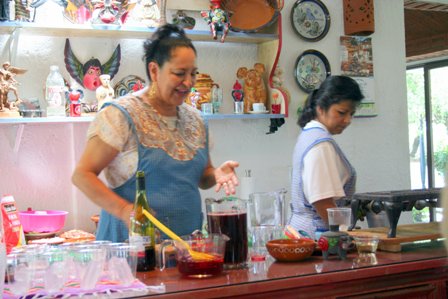 We made 3 dishes using the cactus.  Ensalada de Nopalitos (Cactus Salad), Fajitas De Arranchera Y Nopales Cocidos En Molcajete Caliente (Flank Steak Strips and Cactus Cooked in a Hot Traditional Stone Mortar) and for dessert, Pastel de Nopal (Cactus Paddle Cake). A few fun cooking tricks I learned… coat the salad by putting olive oil in a spray bottle and spray the ingredients lightly.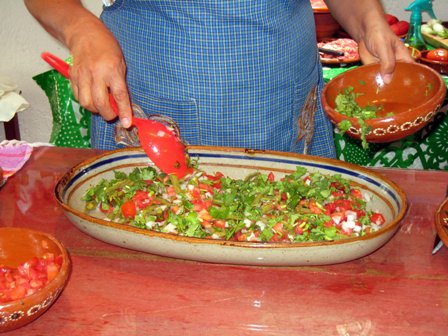 For the Fajitas, she heated a large molcajete (mortar) up-side-down on a gas flame. Once heated, she turned it upright and the residual heat cooked the meat.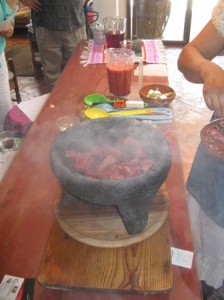 Lastly, she made the cake base in a blender and then transferred it to a mixing bowl where she added Aunt Jemima Pancake mix.  I gotta say, I was very skeptical about the texture and taste of this cake but it was light, fluffy and delicious.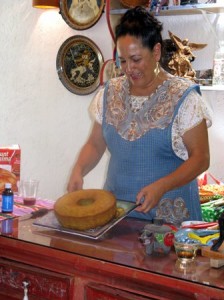 Back in San Francisco, we are fortunate to have stores where we can easily get these ingredients so it should be easy for me to recreate these recipes. Take a local trip to Mexico by heading over to the Mission where these ingredients are on sale for half the price of Whole Foods! Check out:
La Palma Foods: http://www.lapalmafoods.com
Rincon Latino: http://www.rinconlatinosf.com
Casa Lucas Market: http://www.yelp.com/biz/casa-lucas-market-san-francisco-2#hrid:m4X3h6_4PoKx8zUkKz5XLw/src:search/query:latin%20markets
Walking through the markets makes me long for Mexico.  Can't wait for my next trip!