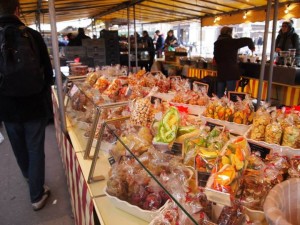 The produce in California is incredible. Between the stone fruit at farmers markets and the stands of vegetables outside almost every neighborhood market, I'm in produce heaven. The smells and colors tease me with all their possibilities; especially when it comes to avocados. I love the creamy texture of avocados so much, that anything, and I mean anything, with avocado vanishes when I'm around. It's a no-brainer for me to incorporate this fruit into as many dishes as I can. I've even turned to replacing dressing in salads (a new idea from Erica, our warehouse manager!) and mayo or pesto in sandwiches. It's just that good.
Of course, these Chalupas with Smashed Avocado are coming highly recommended. As a Parties That Cook favorite, we've made them at many Sumptuous Small Plates corporate events. The perfect appetizer, each little chalupa packs quite the flavor punch while offering a medley of textures. From spicy chorizo to pucker-inducing lime; from firm yet flaky crust to smooth avocado and sour cream. Are you drooling yet? I sure hope I'm not the only one. It's been difficult sitting here, and not rushing into the kitchen to whip up a batch!
Chalupas with Smashed Avocado, Chorizo, and Lime Sour Cream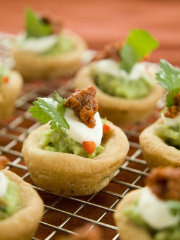 Similar recipes can be found in our Appetizer Recipe Library!
Ingredients
Crust:
Vegetable spray, for greasing pans
1 cup masa harina
1 cup all-purpose flour
2 teaspoons kosher salt
6 Tablespoons butter, chilled and cut into pieces
6 Tablespoons vegetable shortening
1/2 cup + 1 Tablespoon warm water
Mini Muffin Tins
Filling:
6 ounces fresh Mexican chorizo sausage, casing removed
1 large shallot, finely diced
4 Tablespoons cilantro, chopped
1 large red jalapeno, minced
2 large avocados, halved and pitted
2 Tablespoons fresh lime juice
1 teaspoon kosher salt
Lime Sour Cream:
1/2 cup sour cream
2 teaspoons fresh lime juice
1/2 teaspoon kosher salt
1 red jalapeno, minced
48 cilantro leaves
Methods/Steps
Preheat the oven to 350ºF.
Prepare Pans: Using the vegetable spray, lightly grease the insides of 2 24-cup mini muffin pans to make 48.
Make Crust: Combine the masa, flour, and salt in the bowl of a food processor. Pulse the mixture to combine. Add the butter and shortening and pulse again just until the mixture forms a coarse meal. Add warm water and process until moist clumps form, adding more water by the tablespoon if the mixture is dry. Transfer the dough to a flour-dusted work surface and divide it into quarters. Roll each quarter into a rope and cut the ropes into 12 pieces to yield 48 1/2-inch pieces (the size of a marble). Using your fingers, press each piece into a muffin cup, keeping the top edge of the dough inside the cup. Continue until all the cups are full. Use any extra dough to fill holes.
Bake Crust: Bake the cups until dry to the touch, and lightly browned, about 20 minutes. Remove them from the muffin tins and cool the cups on racks.
Cook Chorizo: Heat a medium sauté pan over medium heat. Add the chorizo, crumble with a wooden spoon and cook, stirring, until cooked through, 4-5 minutes. Transfer to a paper towel to drain. Chop into bits if necessary.
Make Filling: Finely dice the shallot, cilantro and red jalapeno. Place into a medium bowl.
Make Filling Continued: Cut the avocado in half and remove the pit. Use a large spoon to scoop out the avocado flesh. Add the avocado to the bowl and gently mash with a fork. Stir the mixture well and add in the lime juice and salt. Taste and re-season with salt and lime juice if needed.
Prepare Garnishes: Mix the sour cream, lime juice and salt in a small bowl. Set aside. Finely mince the jalapeno and pick cilantro leaves.
Assemble Chalupas: Spoon some of the avocado mixture into each of the cooled cups and top with a small dollop of sour cream then pieces of chorizo. Top with a sprig of cilantro and remaining jalapeno. Serve right away.
Serves/Makes:
Makes 48 Chalupas