Contributed by Guest Blogger Julie Reitz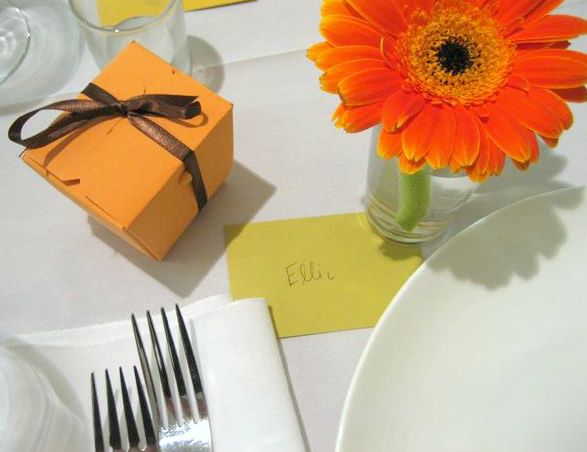 Have you ever thumbed through old photos with friends only to encounter something along these lines?
"This one is from Chris's 40th birthday party. Sally had a dinner party for him."
"Yeah, I was there."
"No, his 40th. You weren't at that one."
"Yes, I was. I was at the other end of the table."
"Oh, I had no idea who was way down there!"
Well, Parties That Cook Founder Bibby Gignilliat has a party tool that gets everyone engaged with each other, and it's so effective, it's scary. Well, it's not scary unless you have something to hide!
This weekend we gathered for an autumn dinner party with hints of Halloween (when else is it appropriate to serve KitKat bars to adults?) to celebrate the third annual reunion of a special group of friends. We all have busy schedules and often treat time with high priority friends as a low priority. And then when we do get together, we rarely leave the scene feeling socially satisfied, closing each transaction with a heartfelt but usually unfulfilled "we should get together to really catch-up!" Rest assured every guest left this particular fete socially as well as culinarily satisfied.
Using place cards to direct everyone to their assigned seat, Bibby pondered over and picked an appropriate question for each guest and wrote that question on the back of each card- then sealed the card so no one could peek before their time. Of course appetizers, drinks, mingling and quick introductions defined the first half of the party, while dinner, dessert and glimpses into everyone's personal philosophies on life permeated the second half.
One by one, each guest presented the group with an answer to their question. The results were thought-provoking, enlightening and personally revealing. And, of course, there was a ton of laughter- this was one funny cast of guests, for sure.
Questions included 'What was your most embarrassing moment?', 'How do you define integrity?', 'If you had one year to live, what would you do?' This was a particularly savvy group – Toastmasters – so you can imagine the flare that came off each answer!
And the menu? Like the conversation, it sparkled. Polpettini (little meatballs) with melted fontina centers, vegetarian Porcini and Portabello Mushroom Lasagna that I still dream about, hearty fennel sausage lasagna, fresh from the farm Arugula and Persimmon Salad with Candied Pecans and a dessert that makes me think it's okay to sleep with cupcakes: chocolate cupcakes with peanut butter frosting (dressed in a delicate paper web of spiders no less).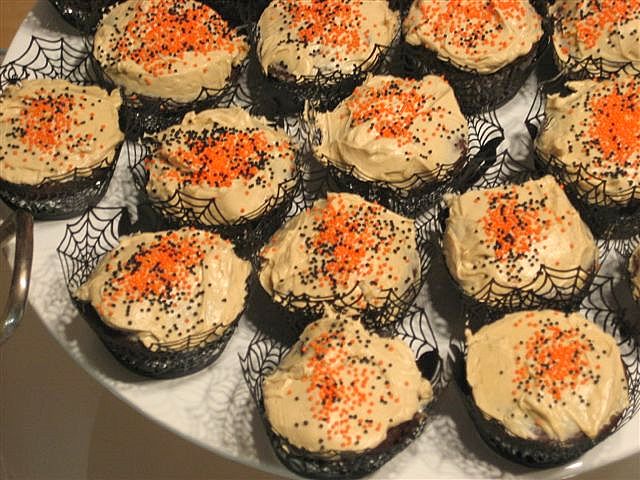 Don't put it off any longer- start planning your dinner party today, so you can catch up with old friends before the holidays sweep everyone away. Use your own questions to get to know yourself and friends a little better. The group momentum will really take off. And you'll never have to say "You were there? Where? I never saw you!" again.
Click here for Parties That Cook's fall dinner party recipes:
Polpettini: Little Meatballs Braised in Tomatoes, Garlic and White Wine Recipe
Porcini and Portabello Mushroom Lasagna Recipe

Arugula and Persimmon Salad with Candied Pecans Recipe
Now through Halloween Day, Parties That Cook is offering $200 off any cooking party – great for anyone who wants to throw a fall dinner party, but doesn't have time to plan it themselves!
For ready-made place cards with conversation starter questions on them, visit our party favors partner site, Beau-Coup.com: Party Topics Place Cards with Conversation Starter Questions or Party Table Topics Cards (box of questions, no placecards).