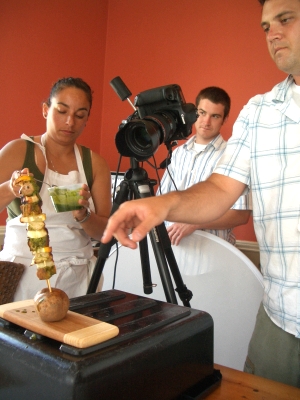 A couple times of year, we round up the troops for a massive food photography shoot, starring our newest recipe favorites and seasonal concoctions.
The day begins at dawn with kitchen prep work – as much as can be done in advance for the many dishes we plan to shoot in the day. Our superstar photographer Chris Andre pops in around 9 am with arm loads of equipment and lighting in tow.
The day progresses with fury as the kitchen belts out dish after dish in a rhythmic chug. We prep each plate with glossy care: positioning each leaf of cilantro by hand, drizzling sauces in geometrics and dusting confectioners sugar like miniature snowflakes.
Each dish takes anywhere between 20 minutes to an hour to set up and shoot. Depending on the style of dish, colors featured and seasonality, we decide on complementary props to add to the composition: plates, linens, silverware, condiments, herbs, flowers.
Once properly styled, Chris lights and frames the shot. If we want to capture action in the shot like sauce drizzling, we'll wait until Chris has everything just right – everyone holds their breath as we pour and snap away!
We'll be populating our Parties That Cook website with the new food photography very soon. In the meantime, enjoy a few of our favorites and memories from the photo shoot: