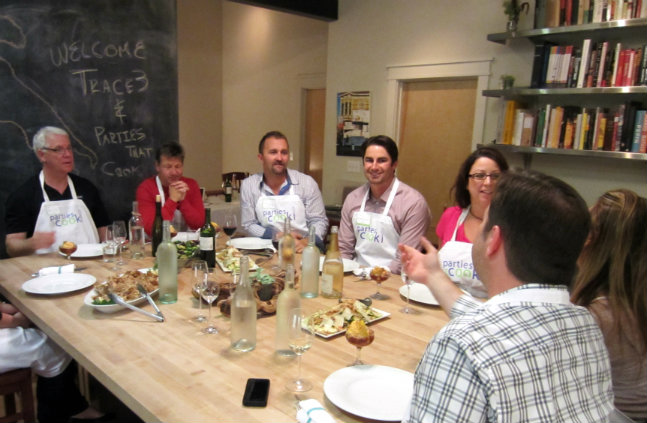 Team building events, when done right, can increase productivity and create more efficient teams by bringing individuals together, promoting team unity, improving communication skills, and strengthening trust among team members. With this list of potential perks, it's surprising more companies don't participate in team building activities, let alone have a team building budget. WHY does team building work, you ask? We've broken down a few reasons why team building with Parties That Cook is effective, and even provided some client testimonials!
1.) Successful team building events allow colleagues to take a break from work-related talk, relax and have fun!
Sometimes it's hard to shake off the day and get out of work-mode. We've all been there. At Parties That Cook events, collaborating on a common goal makes it easy to get your mind off work. You'll have so much fun, you'll feel like the only thing you're "working on" is your appetite. Communication is centered around the meal you create, and talking shop is not encouraged. According to Trace3 host, Theresa Chavez, "You were able to take our high stress employees who work around the clock, and get them to relax and have fun. Everyone seemed genuinely excited throughout the event."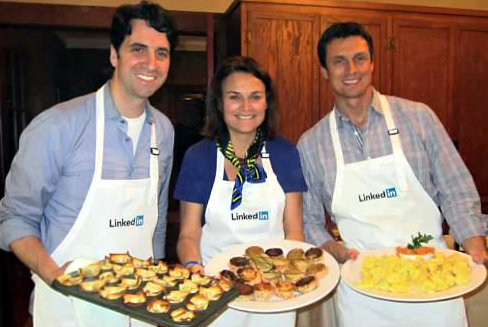 2.) Successful team building events allow you to get to know the rest of your team.
Walking into a Parties That Cook event, you may feel like a stranger among your colleagues. However, we consistently find that as the kitchen heats up, so do our guests. Ruby Lopez of LinkedIn says it best, "This event created a physical and emotional connection for our team. Our team is made up of people from different countries and various office locations, so face time is limited. Cooking together got us extremely close and gave us the opportunity to cheer each other in the midst of a project whereas with work we have to wait to see the results of a project and sit through the details in a presentation. Chef Anne was a great host and a wonderful instructor, I learned a lot from her and never felt like the novice that I am."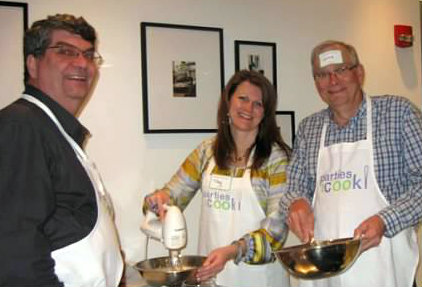 3.) Successful team building events allow teams to clearly define roles and responsibilities.
In the office, your role is likely clearly defined, and each member of your team likely has an area of expertise. At a Parties That Cook event, all assumptions at the office are thrown out the window. Sure, your group is split up and tasks are delegated, but new leaders emerge in the kitchen — and sometimes it's the person least expected. Fresh team dynamics develop and it all comes together in a delicious gourmet meal. As Bay Valley Foods' Jenny Hinson explains, "The best part was the team work and team building of the event and this is why it also made the event so successful because it showed that each station was in charge of one item to cook and everyone came together to meet a common goal, exactly how it is done within a company."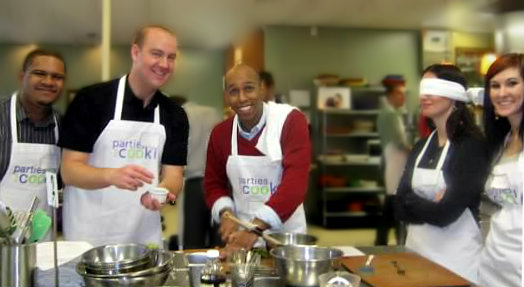 4.) Successful team building events encourage groups to celebrate success.
"This was such a great team builder for our people. Our team members were visibly a more cohesive and collaborative group the following day. The competition element was a great motivator for the group," says Jessica Christensen with Aequitas Capital Management. When you opt for one of Parties That Cook's competitive cooking formats, a "winner" is determined. But official winner or not, every guest at every event is encouraged to celebrate with their team. A win can come from hitting their sales quota, a successful product launch, or even creating a crave-worthy menu together from scratch. At the core of Parties That Cook events is the sense of accomplishment our guests feel when they finally taste the fruits of their labor.