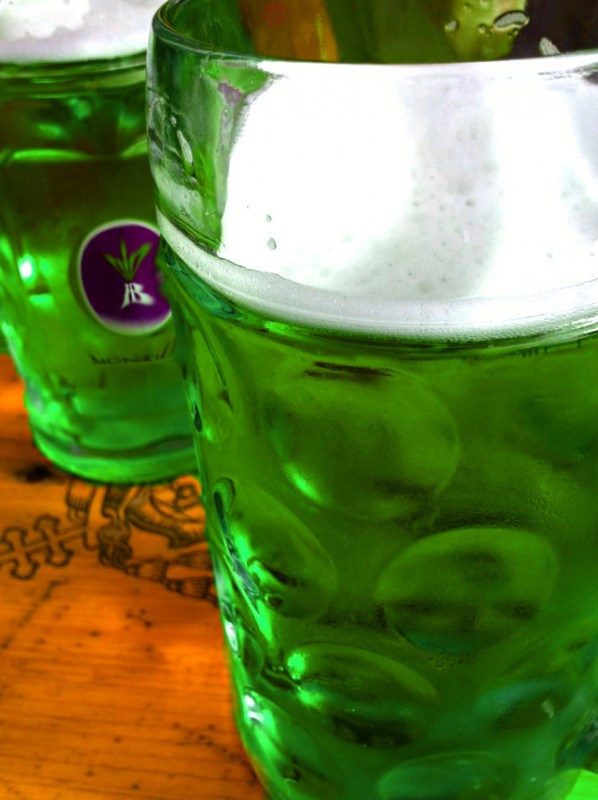 Saint Patrick's Day is only a few short days away. While you may not be Irish today, "Everyone's Irish on St. Patty's Day!" At least that's what I'm told. For those who prefer to fly by the seat of their pants – leaving all weekend planning until 3pm Friday – AND those who like their calendar filled with color coded activities days in advance, this list is for you. We've rounded up the best food-filled events in Seattle, San Francisco, Portland and Chicago this weekend!
It is the Feast of Saint Patrick, after all…
SEATTLE:
Brews & Bites – This beer-tasting cooking class has FUN written all over it. Hosted by Parties That Cook (what a coincidence!) and Hilliard's Beer, enjoy a flight of 5 beers sampled throughout the evening of hands-on cooking!
St. Patti's Night Out – Join Teatro Zinzanni for a special night of deliciously festive food, Irish drink specials, Irish dancing, the usual comedy, and more!
COCHON 555 – This touring culinary competition finally hits Seattle! Celebrating five years of the 555 formula, (five chefs, five pigs, five winemakers) this sustainable farming event is not to be missed!
SAN FRANCISCO:
St. Patrick's Celebration Lunch and Show – It doesn't get more authentic than an Irish luncheon hosted by the United Irish Cultural Center! Better than be duped by any of these imposters.
Funcheap's Shamrock Streat Bash – Afraid of committing to one type of Irish fare? You're in luck! Dishes available at this food truck event run the gamut of Irish bites. If it's corned, green or lucky, you'll find it at the SoMa StrEat Food Park!
San Francisco's St. Patrick's Day Parade & Festival – A parade sponsored by SF Irish pub, O'Reilly's, Bailey's and Guinness?! Welcome to Ireland. Expect plenty of Irish food, drinks, dancing and other cultural exhibits.
St. Patrick's Day Party at The Irish Bank – Last, but not least on this long list of activities is the annual block party hosted by The Irish Bank. Warning: this pub will be swarmed with folks donning green. Dare to face the crowds for the first-come, first-served pub fare? If you like raging parties, this just might be the event for you.
PORTLAND:
Kell's Annual St. Patrick's Irish Festival – You can only expect great things from an Irish Restaurant & Pub hosting its own Saint Patty's weekend festival. But just to give you an idea of what's in store: think Irish dancers, pipers, folkers, drinks, live music, and FOOD!
Sellwood-Moreland's 15th Annual St. Patrick's Day Festival & Parade – You're sure to find authentic Irish classics including corned beef and cabbage, corned beef sandwiches, shepherd's pie, and Irish sausage rolls. Need I even mention the Guinness and Widmer Brewing favorites? Wait, did someone say parade?! I'm there.
St. Patrick's Day at EastBurn – Not sure who Mike is, but he'll be slinging his Famous Corned Beef & Colcannon for dinner Saturday and brunch Sunday. Word on the street is he always sells out, so shake off that Guinness hangover early Sunday and see what the buzz is about.
CHICAGO:
The Good Food Festival – Who isn't interested in eating good food?! This festival gives you the opportunity to stop by and learn more about awesome local farmers while you do it.
Rockit Bar & Grill – Ok. So this listing isn't all about St. Patrick's Day, but there's nothing wrong with a weekend of March Madness basketball viewing! They're even throwing in live music, Irish drink specials, and "all things green". I'd go just to see what that includes…
If you're weekend is already booked, swing by Rockit Bar & Grill all next week for the 4th Annual Mac Madness. Each day features a uniquely cheesy Mac n Cheese dish. Yes.
Soda Bread at Beverly Bakery – We're going to keep it simple with this one. If you're looking for traditional Irish fare this weekend, check out Beverly Bakery. It doesn't get more authentic than Irish soda bread.