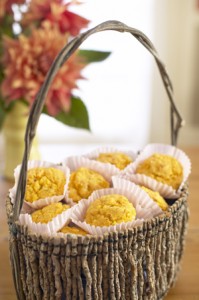 One of the greatest pleasures in life is relaxing with a hot cup of tea while munching on toast and jam. Growing up, my mother was always buying new jellies and marmalades to slather on our bread. I'm pretty sure we never had less than four open jars in our kitchen at a time. Berry jellies were always my favorite — particularly blueberry and Mom's homemade raspberry jam. Still, I'm up for trying just about any flavor. I spent this past spring semester studying in the UK, and while wandering the streets of Cardiff I came across a delightful grandfather jelly vendor who made a berry jelly with jalapenos. This find demanded a taste test, and I was not disappointed! I loved the initial sweetness and the subsequent heat of the jalapenos. I couldn't help but buy a jar, and to this day I'm on the quest for unique jelly flavors.
When I recently came across Potlicker's beer jelly in Scoutmob, I was pretty excited. Beer jelly is becoming quite the trend, particularly in cities with a booming beer industry. How have I not tried this yet?! While in San Francisco, I'll have to see if I can find a jar or eight to sample. In the meantime, a classic Parties That Cook appetizer recipe with Jalapeno Marmalade has piqued my interest, reminding me of my UK days. I can only imagine the kick that this marmalade adds to menus at our summer corporate cooking events!
Mini Arepas with Oaxaca Cheese and Jalapeno Marmalade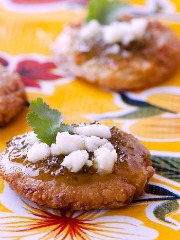 Ingredients
Arepas:
3 Tablespoons unsalted butter
1 1/4 cup milk
1 1/4 cup masa harina
1 Tablespoon granulated sugar
1 teaspoon kosher salt
1 1/2 cups Oaxaca cheese, grated, divided–half for dough and half for garnish
1/2 cup canola oil
Jalapeno Marmalade:
6 large jalapenos, stems and seeds removed
2/3 cup white vinegar
1 Tablespoon kosher salt
1 1/2 cups sugar
Cilantro for garnish
Methods/Steps
Make Arepa Dough: Preheat oven to 300°F. In a small sauce pan; melt the butter and the milk over moderately high heat. In a large bowl, mix the masa, sugar, salt, and half of the cheese together. Add the milk mixture and mix until a smooth dough forms. Cover and let the dough rest for 5 minutes.
Form Arepas: Roll the dough into little balls about the size of a large marble. Lightly flatten the balls between your palms to about a 1/4-inch thick. The flattened dough should be about the size of a silver dollar. Transfer the rounds to a sheet pan.
Fry Arepas: In a large sauté pan, heat canola oil until hot. Working in batches, add arepas to the pan (do not overcrowd pan) and cook over moderate heat until golden on the outside but moist within, about 2 minutes per side. Transfer the cooked arepas onto a cooling rack placed over a sheet pan. Place in the oven to keep warm until ready to serve. Repeat with the remaining dough.
Make Marmalade: In a food processor, puree jalapenos, vinegar, and salt until smooth. In a small saucepan, heat jalapeno mixture on high heat and add sugar. Bring to a boil and let boil for 20 minutes, stirring occasionally. Allow mixture to cool briefly and then transfer to a small bowl.
Assemble: Remove the arepas from the oven. Spoon a dollop of marmalade into each arepa. Top with a little grated cheese and a tiny sprig of cilantro.
Serves
Makes about 24 arepas