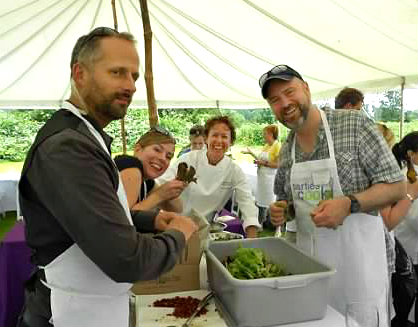 The weather is warming up as we race toward those lazy summer days. I, for one, CANNOT wait. Here at the PTC office, I find myself daydreaming of sunny afternoons, drinks with ice, and actually craving salads (weird, right?). To fight my plummeting productivity, I thought I'd channel my anticipation into a fun blog. Keep reading for an event recap from last summer. This Seattle corporate team building event for Virtuoso takes us to Willie Green's Organic Farm — it's everywhere you want to be.
Virtuoso host, Kari Edwards, found us through something as simple as an internet search (Yay for good SEO!). After falling in love with the variety of team building options we offer, she decided on our Cooking Farm-to-Table event. Despite a brief snafu with the date, PTC event planner, Beth, had everything under control. According to Kari, "Beth was great to work with. She was very responsive, and patient when we had trouble with a date change unexpectedly." Way to go, Beth! If we've learned anything from 13+ years in the event planning business, it's that things do not always go according to plan. Beth is a pro at rolling with the punches!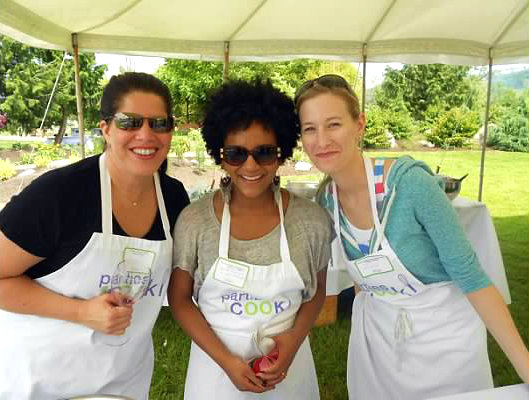 When clients describe themselves as "Specialists in the Art of Travel", you know they're going to be a lot of fun. The group arrived at Willie's farm at noon on a beautiful Thursday. After half an hour of mingling, sipping wine, and noshing on a fabulous antipasti platter with crudite of baby radishes, carrots and cultured butter, the group set off for a tour of the property. Jeff, the farmer leading the tour, brought everyone back promptly at 1:00 for the PTC cooking demonstration. With everything running smoothly, we were off to a great start! One of our newer Sous Chefs, Ben, showed our guests a few tips & tricks related to the day's menu. Kari later reported, "Many of my coworkers mentioned how much they enjoyed the cooking technique demonstrations by Ben." Great job, Ben!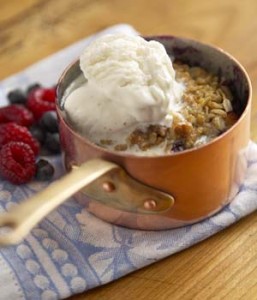 Our travel specialists were then split into teams to work on the day's mouthwatering farm-to-table menu. Favorite recipes included Griddled Corn Cakes with Bacon and Sour Cream, Baby Lettuce Salad with Fresh Cherries and Tarragon Crème Fraîche Dressing, Chicken Cooked Under a Brick with Arugula, Preserved Lemons and Green Olives, and a Summer Berry Crisp with Aunt Polly's Hot Cream Sauce. According to Lead Chef, Carolyn, "They loved the event! Everything from the farm to the food to the staff to the recipes. We added in the farm's baby carrots and radishes for the antipasti, lettuces for the salad, and arugula for the chicken filling. The food came out so good!" Host Kari could not agree more. She found that her team "loved that they actually got to cook, vs. a lot of cooking classes now days that are more demo than anything… Everyone loved the food, loved being introduced to new ingredients (like preserved lemons), and are clamoring for the recipes." Lucky for them we send out all recipes to guests post-event. Just be sure to leave us your email address!
Reflecting on the event, Kari had this to say, "The selection of Willie Green's farm was perfect! Being in the 'luxury travel industry', my coworkers and I have big standards and big expectations – we were not disappointed! I think the staff – a perfect combination of warmth and professionalism – was the best part. Everyone was friendly, always had a smile, and you never had to look far for someone to assist you. Carolyn was personable, engaging, knowledgeable and made me feel comfortable leaving all of the 'party organizer' details in her hands. I was able to completely relax and enjoy myself. She looks like Annette Bening!!"
While our team was so touched by Kari's kind words about the event overall, we couldn't help but hone in on her Annette Bening comment. Carolyn probably had the most fun with the compliment, changing her email signature to reflect her new alias for the day. "Carolyn Peters aka Annette Bening"