Last Tuesday we met for our January cookbook club. Rosie, one of our amazing event planners, selected Darryl Estrine and Kelly Kochendorfer's Harvest to Heat. This cookbook puts much needed emphasis on where ingredients come from. Every few pages, you can find a short story featuring a different artisan, farmer or fisherman, and the story of how they became successful. Relationships between chefs and farmers are highlighted with the help of beautiful photos. Featuring simple recipes from numerous renowned chefs, Harvest to Heat is a confidence builder for cooks of any level.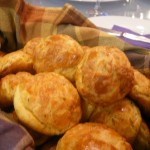 Two of our event all-stars, Dana and Pat, joined us. Pat even made delicious Herb Gougeres! With a great semisoft cheese from Cowgirl Creamery, she could do no wrong. Still, the gougeres were baked to perfection: light and puffy, yet crispy.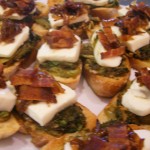 Rosie signed up for Crostini with Burrata, Marinated Escarole, and Carmelized Shallots. Unfortunately, she could not find Burrata anywhere – even after checking multiple stores! She made a substitution of mozzarella, which might have gone unnoticed had she not mentioned the switch. Rosie thought the final result was a little too salty, but everybody loved them!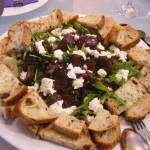 Michelene chose to make the Beet Salad with Chevre and Black Olive Croutons. She, too, unnecessarily confessed to a shortcut of buying olive bread (Such honest ladies!). The outcome was a beautiful and delicious salad.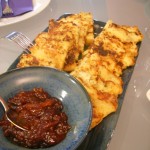 Beth took on the all-day task of making Savory Bread Pudding with Bacon and Farmstead Cheese with Tomato Jam. Though the recipe requires a lot of time, you definitely do not need to be in the kitchen during much of the cooking. Beth made the executive decision to double the bacon in the bread pudding, and boy were we glad she did! Even with the extra bacon, the flavor was faint and not at all overwhelming. This dish was quite popular!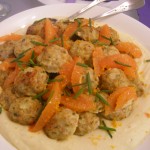 Carolyn selected Duck Meatballs with Pomegranate-Orange Glaze and Pureed Parsnips for her recipe. Carolyn could not find ground duck at the stores, and opted to substitute chicken for duck. The pomegranate-orange glaze was delicious, and the parsnip puree was a great complement to the meatballs!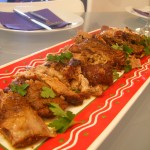 Crissy wanted to try the Pork Osso Buco with Wild Mushrooms and Almond Piccata. She was very pleased with the outcome (along with everyone else!), though she did note a slight change in the texture when she reheated the meat the next day.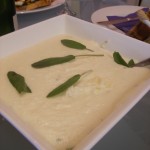 Bibby opted for the Cheese Grits . Bibby could not find stone-ground grits, and instant grits made a fine substitution. After following the recipe, Bibby found the grits a little bland. To correct this, she added a lot of cheese. In the end, there was no denying this was a cheese grits dish, but there's nothing wrong with that! Everyone found these cheese grits delicious!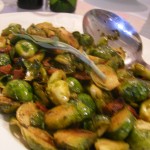 Bibby also decided to make Brussels Sprouts with Brown Butter, Bacon and Sage. She found the recipe, which had her cook the Brussels sprouts on the stovetop in some remaining bacon fat, a bit odd. The resulting sprouts were delicious!
Traci was going to bring in Butter Bean and Corn Succotash with Candied Bacon, but was not feeling up to it after getting sick over the weekend. Erin was going to bring her mother in law, her adorable son AND a Milk Chocolate Semifreddo with Star Anise Carrot Cake, but he too fell ill over the weekend.
Overall, this was one of our most successful cookbook clubs ever! All the food was delicious, and there were few issues with the recipes! After much reminiscing about old family recipes, there was talk of a future cookbook club featuring childhood favorites. Keep an eye out for updates!