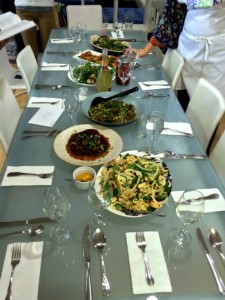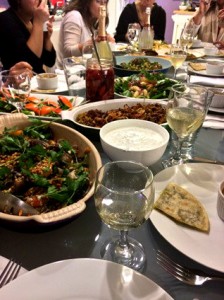 We recently hosted our November Cookbook Club – a special lunch we can't help but look forward to. As usual, it was a hit! This month's featured cookbook was Jerusalem by Yotam Ottolenghi and Sami Tamimi. If that first author sounds familiar, that's because we featured his cookbook, Plenty, in a previous cookbook club. Our reviews were so positive we had to give Jerusalem a try.
From flavorful vegetable dishes to sweet deserts, this book boasts 120 recipes accompanied by gorgeous photos. Both Jerusalem-born authors share recipes from their home city — influenced by diverse Muslim, Jewish, and Christian communities. Let's see how recipes were brought to life in a most delicious manner!
The feast began with Kelle's Burnt Aubergine & Mograbieh Soup, or in layman's terms, "Burnt Eggplant Soup". After the first taste: WOW. I really wan't expecting the flavors to fit the title so well. The soup had such a unique flavor. Baked aubergine pieces were tossed in with a blend of burnt aubergine and tomato soup. The Mograbieh Israeli couscous added a soft yet firm texture to each spoonful. It was distinctively delicious!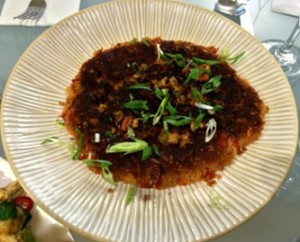 Tanya presented a fantastic looking and tasting dish: Couscous with Tomato and Onion. It was so light, airy and buttery, everyone helped themselves to seconds and thirds (guilty)! The toasted top layer of couscous provided a crisp bite, and was followed by the tasty tang of tomato. Sprinkled with green onion, this simple dish would make the perfect side for any meal!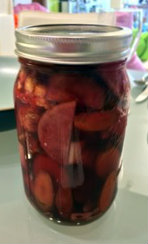 Erica made a vegetarian-friendly Middle Eastern rice dish with lentils and freshly fried onions, Mejadra. I unapologetically bathed my food in the absolutely delicious cucumber yogurt (Greek, of course). For extra credit, Erica also brought a jar of curried pickles. Veggies like cauliflower and rainbow carrots floated in cider vinegar and curry powder. The purple carrot even turned the liquid an awesome shade of purple.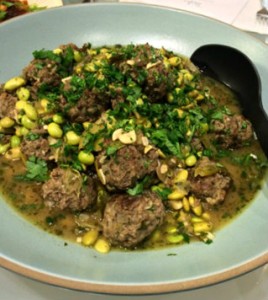 Crissy made mouthwatering Meatballs with Fava Beans and Lemon. After soaking in a stock with spices galore, the beef and lamb meatballs were so flavorful! The light green edamame and dark green cilantro garnish added vibrant color, making her plated dish looked like something out of a magazine. I highly recommend pairing this dish with rice!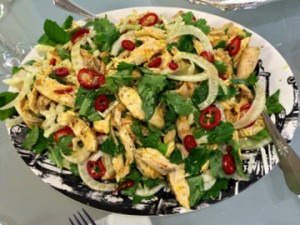 Beth made a striking Saffron Chicken & Herb Salad. Citrus, honey, black pepper and mint gave the arugula and basil leaves a sweet zing. Grilled chicken pieces seasoned with olive oil, garlic and orange puree were also tossed with the greens and aromatic saffron, making the whole dish come together like a sweet symphony.
Mary brought in an amazing Herb Pie. The creamy blend of ricotta, feta and aged cheddar cheeses were balanced by the perfect amount of Swiss chard, arugula and parsley. Hints of dill and onion weren't lost in the shuffle of the other ingredients, and the pie was baked with an incredibly light and flaky buttered filo pastry on top. So satisfying.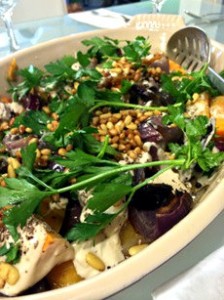 Bibby brought in a gorgeous dish of Roasted Butternut Squash and Red Onion with Tahini and Za'atar. The rich colors sure caught our attention, but the Za'atar herb really gave the dish its Middle Eastern flare. The first bite was a blend of creaminess from the tahini and the soft, meaty squash — YUM. For extra credit, Bibby brought along some skewered persimmons from her backyard!
Christina made a Spinach Salad with Dates and Almonds. I absolutely loved this dish. The simple dressing of olive oil, white wine vinegar and lemon was a great addition to the spinach leaves. Tossed with plenty of red onion, dates and almonds, my favorite component was the buttery pita pieces. Yum!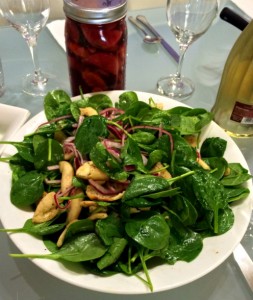 For desert, Emily made a fantastic batch of Spice Cookies. The brandy-soaked currant flavor definitely stood out, but the cinnamon-y (that's a word, right?) and citrus flavors held their own. The lemony sugar glaze paired surprisingly well with the chocolate in the cookie.
The typical overachiever, Bibby also prepared a Semolina, Coconut and Marmalade Cake. The semolina and sweet marmalade made for a crumbly and delicious treat!