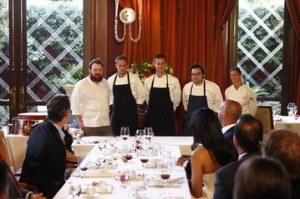 After 22 challenges and 17 chefs, it's down to the top five of Top Chef Las Vegas!
The theme of this week's quick-fire and elimination challenge: Bocuse d'Or– the world's most difficult and ultimate cooking competition. Executive Chef of Café Boulud and 2007 Bocuse d'Or American representative, Gavin Kaysen, serves as the quick fire judge. Their challenge: create a version of Chef Kaysen's Bocuse d'Or dish- a protein, in a protein, inside a protein. Hmm…Turducken perhaps? The chefs have 90 minutes to create their dishes.
On the menu:
Eli- bacon-crusted breakfast sausage with a six-minute center
Jennifer- calamari steak, scallops, salmon, shitake, shiso with rice noodle salad
Michael- 'poultry terrine' chicken with turkey and bacon mousseline
Kevin- cornmeal-fried fillet of catfish with scallop and shrimp
Bryan- rack of lamb and merguez sausage wrapped in caul fat
Jennifer takes the win! It's great to see her on top again after her not-so-stellar performances in the last few challenges. Now on to the elimination challenge. The challenge: A Top Chef version of the Bocuse d'Or. Each cheftestant must create a regal presentation platter with one protein and two garnishes. The chefs have two choices for protein: lamb or salmon and four hours to cook. In true Bocuse d'Or competition style, the chefs must present their creations on a traditional Bocuse d'Or mirrored platter. The chefs will be cooking for 12 esteemed judges, including representatives of the American Advisory Board of the Bocuse d'Or as well as Thomas Keller, the only American-born chef to have simultaneously two restaurants with three Michelin stars. The criteria of the challenge: taste, creativity and execution. I can't think of a better group from Top Chef Las Vegas contestants to serve in this elimination challenge!
On the menu:
Michael- salmon with cauliflower chickpea tart and zucchini tzatziki
Jennifer- salmon and caviar, shrimp flan and truffle, celery root and shitake
Bryan- crusted lamb loin, lamb shank crepinette and orzo au gratin
Kevin- poached lamb loin, sherry-glazed beet and asparagus in sunchoke cream
Eli- sausage wrapped lamb loin, carrot puree and tomato piquillo canapé
Back at judge's table Jerome Bocuse, son of Paul Bocuse, serves as the elimination guest judge. Kevin wins! His dish is simple, well executed and cooked correctly. Frankly, Kevin makes the kind of food that I want to eat and his humble, kind attitude is making me root for him to win! He is awarded $30,000 and a spot to compete in the 2011 Bocuse d'Or as an American representative. But it is Eli who is sent packing for his undercooked lamb. It was 'hard to swallow' as one of the judges stated. Farewell Eli!
Next week, the chefs head to Napa! Until then, cheers!