It's almost game time. Sure, your team isn't playing, but who really cares who wins at this point, anyway?? We know watching the big game is all about the food. And commercials. And the beer. And beer commercials. This Super Bowl Sunday, show up to your viewing party (some bars allow outside food, too!) with these incredibly manly Pretzel Bites with Mustard and Beer Dipping Sauce! Introduce these delicious pretzel poppers to your friends, and we guarantee* your manliness will never be questioned again (works for women, too!).
Soft Pretzel Bites with House Made Mustard and Beer Dipping Sauce
This recipe can be found in our Appetizer Recipe Library!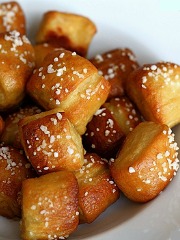 Ingredients
Spicy Honey Mustard and Beer Dipping Sauce:
1/4 cup ground mustard
1/4 cup white wine vinegar
1/4 cup sugar
3 egg yolks
3/4 cup dark beer
3 Tablespoons honey
1 teaspoon kosher salt
Soft Pretzel Poppers:
Butter to grease sheet pans
1/2 cup baking soda
2 quarts cold water
2 Tablespoons warm water plus 1 1/3 cups
1 envelope active dry yeast (have extra on hand in case yeast dies)
1/3 cup brown sugar
5 cups AP flour plus more for bench flour
Kosher or pretzel salt
Methods/Steps
Preheat oven to 475°F.
Bloom Mustard: In a small saucepan, combine mustard and vinegar; let stand for at least 30 minutes up to an hour.
Make Sauce: To the mustard mixture, whisk in the sugar, egg yolks and beer until smooth. Cook over medium heat, whisking constantly, until mixture just begins to simmer and is thickened, about 5 minutes. Remove from the heat; whisk in the honey and salt. Let cool slightly and transfer sauce into a serving dish.
Prepare Pans: Lightly butter 2 or more sheet pans. Set aside. In a large pot, bring 2 quarts of water and baking soda to a boil over high heat.
Dissolve Yeast: In a medium bowl, mix 2 tablespoons warm water with the yeast to dissolve it. Then stir in the remaining 1 1/3 cups warm water and brown sugar.
Mix Dough: Place the flour into a bowl of a large food processor. Pulse the flour to gently mix. Turn food processor on and gradually start pouring the yeast mixture into the flour. Continue mixing until it forms a ball. Turn it out onto a work surface and knead the dough to make it smooth. Use enough flour on your work surface so the dough is not sticky.
Form Pretzel Bites: Cut dough up into 6 pieces. Roll each piece into 1/2-inch thick ropes. Cut the ropes into 1 inch pieces (about 10-12 pieces per rope). Working in batches, drop the pieces into the boiling water for 30 seconds. Using a spider, remove the poppers and place them onto the buttered sheet pans. Sprinkle with kosher or pretzel salt while still damp.
Bake Pretzel Bites: Place sheet pans into the oven and bake for 8-10 minutes or until golden brown.
Serve: Place pretzel poppers onto a serving plate with the mustard sauce.
Serves/Makes
Serves 24
Recipe created by Parties That Cook® | www.PartiesThatCook.com.
*Manly results not guaranteed.