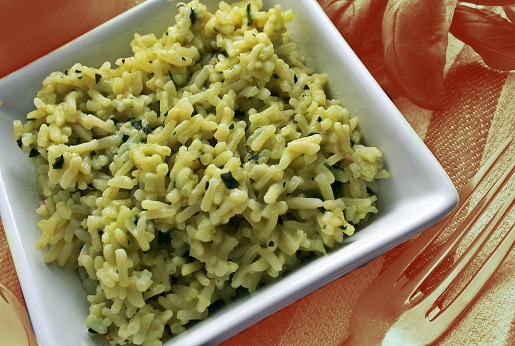 The big day is fast approaching! We know what we'll be eating this Valentine's Day, do you? If you haven't secured a coveted spot at that trendy romantic restaurant (or one of our couples cooking classes), you may feel a slight tightening in your chest. Put down that stress ball, breathe, and check out this delicious risotto recipe. You'll impress your date with your culinary prowess AND discover how easy it is to create a gourmet meal at home!
Menu Tips:
Serve this dreamy creamy risotto with a light dish like poached prawns or chicken breast. OR… Go big with hearty skirt steak, balsamic marinated or spiced. Finally, don't forget a sweet finale! This can be as simple as strawberries and chocolate, or as decadent as this Mexican Chocolate Bread Pudding. Basically, you have options.
Creamy Risotto with Tuscan Kale and Goat Cheese
Other great side dishes can be found in our recipe library.
Ingredients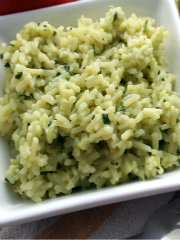 Risotto:
5 cups water, can substitute with stock of choice if preferred
2 teaspoons kosher salt, divided
1/4 teaspoon freshly ground black pepper
2 garlic cloves, sliced
1 bunch Tuscan kale (about ¾ lb. or a 10oz bag of fresh cut up kale), washed
1/2 small yellow onion, finely chopped (about 1 cup)
2 Tablespoons extra-virgin olive oil
1 1/2 cups Arborio rice
1/2 cup white wine such as Sauvignon Blanc
3 Tablespoons unsalted butter (you may want more)
1/2 cup Parmigiano Reggiano, grated (you may want more)
Zest of 1 lemon
6 ounces fresh goat cheese, crumbled
Freshly grated nutmeg to garnish
Methods/Steps
Prepare Kale Puree and Broth: Bring water up to a boil in a large sauce pan or pot. Add 1 teaspoon of salt, pepper and sliced garlic. Roughly chop the rinsed kale, stems and all, into small pieces. Blanch the kale in the water for about 7 minutes or until the stems are very tender. Remove the kale and garlic with a spider (not the scary kind) and place into the jar of a blender. Add 1/4 cup of the cooking water to the blender and puree until the kale is very smooth. Save the broth in the pot and keep it hot. Set the puree aside until the end.
Sauté the Onion: Add the olive oil to a Dutch oven or large sauce pan set over medium heat. When shimmering, add the onion and 1 teaspoon of salt and cook, stirring frequently with a wooden spoon, until softened, about 3 minutes.
Cook the Rice: Add the rice and cook, stirring until the rice is coated with olive oil and looks chalky, about 3 minutes. Add the white wine and simmer until the wine is absorbed (Note: it happens very quickly). When the wine is absorbed, add enough broth to just cover the rice, about ¾-1 cup depending on size of pan, bring back to a simmer and stir frequently until the rice has absorbed most of the broth, about 2 minutes. Repeat this process, stirring frequently between additions, until the risotto is done. It is done when the rice grains are just tender but still have a bite, like al dente pasta, about 15-20 minutes. Not when the broth is gone. You must taste a grain often. You will have extra broth. Hold onto it and keep it warm. You may have to use it again before serving the risotto.
"Spin" the Risotto: When the rice is ready, turn off the flame and add the butter and Parmigiano cheese. Stir aggressively or "spin" the risotto to really make it creamy. Add the kale puree and continue to mix until thoroughly combined. Taste and re-season with more butter, Parmigiano cheese or salt. The risotto should be loose and a little soupy, not tight and clumpy.
Plate the Risotto: Lay out the first course bowls on to the work surface. Check the risotto. If it has tightened up at all, add some of the hot broth to loosen it up a bit. Spoon a 1/2 cup of risotto into each bowl. Top with a little crumbled goat cheese and a grate of fresh nutmeg. Wipe the rims clean and serve.

Serves/Makes
Serves 10