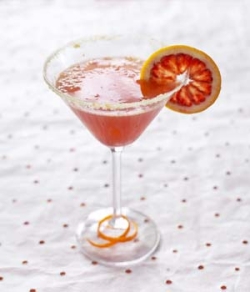 Contributed by Guest Blogger:
Stephanie Beack of Scrumptious Street
If you're anywhere near the Bay Area this week, you know that summer is upon us! Warm temperatures and sunshine on our skin means it's time to move the party outside to the backyard. With grills firing up everywhere this month, it's time to focus on summery dishes and terrific cocktails to pair with them.
While there's nothing wrong with the staples of summer – dirty martinis, G&T's and screwdrivers, true food lover's follow a few simple culinary rules to stir up the best summer cocktails.
Think of cocktails as an extension of your meal – a course in its own right with a pleasing taste, texture and appearance. Follow the instincts of your palate and identify combinations that balance and complement each other (sweet & salty, bitter & spicy). Experiment with texture by integrating simple syrups, carbonated sodas, crushed or cubed ice, and juices or purees. Garnishes aren't just for looks – flavored sugar/salt rims, lime wedges and herbs muddled in a cocktail add complexity and a pleasing appearance.
There are two clever techniques I like to use when pairing summer cocktails with food:
Counter-Balance Pairings: Start with a tried-and-true combination of contrasting flavors and split the flavors between the food and cocktail. For example, a peppery salad of Arugula, Gorgonzola and Walnut typically includes sweet, freshly sliced pears. Forgo pear in the salad and instead, serve a pear-focused cocktail like a Ripe & Ready (pear vodka and pomegranate juice). When enjoyed together, the sweet and tartness of the cocktail will balance the peppery richness of the salad.
Ripe & Ready with Arugula, Gorgonzola & Walnut Salad
Mojitos with Fresh Pea Soup
Banana Split Cocktail with Chocolate-Dipped Strawberries
Complementary pairings: Employ one theme ingredient in both the cocktail and its partner dish. View this ingredient as a common thread that ties the two components together. For example, make a Pimm's Cup with the traditional slice of English cucumber as the garnish. Serve with a cold gazpacho with cucumber as its dominant flavor. The cucumber serves to unify the tasting experience: a sweet and tangy cocktail balanced by a cool, crisp summer soup.
Pimm's Cup with Gazpacho with Shrimp Ceviche (Cucumber)
Dark & Stormy with Salmon with Ginger-Lime Sauce (Ginger)
Vin d'Orange with Salad of Orange, Avocado and Black Olives (Orange)
Food & Wine recently featured a terrific rundown of summer cocktails, check it out to get your creative juices flowing. Here's a toast to throwing a great party with wonderful food and perfectly paired cocktails!