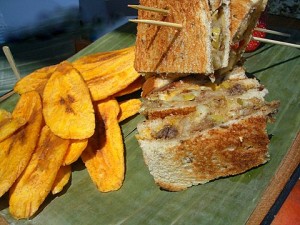 Did you know April is National Grilled Cheese Month? We celebrated by drawing our golden spatula for a high-steaks Grilled Cheese Competition masterminded by the folks at USA Hosts/Key Events and AT&T Ballpark.
Chef de Cuisine Tanya Rogow invented the world's first Latin-Style Grilled Cheese Sandwich with Slow-Roasted Pork, Spanish Olives, Capers and Manchego.
Tender, shredded pork mingles with three kinds of cheese: Manchego, Gruyere and white cheddar. Spicy pepperoncini peppers and Spanish olives pump up the Latin flavor, while rye bread, capers and yellow mustard add an unexpected New Yorker twist to remind us that the grilled cheese sandwich is after all an American tradition.
Served with a side of plantain chips, this Latin Style Grilled Cheese Sandwich takes the old Wonderbread/Kraft Singles standby to a whole new level of global gourmet fusion!
All day long on the field of AT&T Park, eaters (also the judges of the contest) told us how much they loved our perfectly crisped bread, gooey cheese and tangy zip of mustard and juicy pork goodness. Utterances of "this is the best sandwich ever" and "definitely my favorite" could be heard amongst passers by.
We had some formidable competition from local catering companies, the ballpark staff and USA Hosts. We were clearly the crowd favorite among foodie types, but the winner of the official competition ended up being a brie and prosciutto sandwich from a Berkeley catering company (can't recall their name).
We attribute their win to a certain charming French chef who was caught wooing female judges with comments like "you say you've tried French food, but have you tried French men?". Short of shaking our maracas, our Latin Grilled Cheese didn't stand a chance against his je ne sais quoi. Alas, there is always next year!