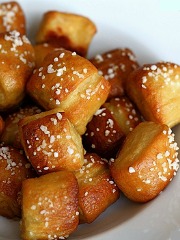 Even just thinking of buttery, perfectly flaky croissants, my mouth waters. A great croissant dissolves on your tongue, not unlike cotton candy (but maybe not quite like it, either). In my book, however, the firm exterior, soft interior, and potentially crunchy accents of salted pretzels trump croissants. They're the ultimate walking-the-street, exploring-the-city, hiking-up-that-really-big-hill food.
While browsing through my arsenal of San Francisco foodie websites, hoping to beat the Monday blues, I came across an innovative food idea: The Pretzel Croissant. Let me just say, YUM. This must be the perfect breakfast sandwich bread – why has it taken so long for someone to get it right?! Yes, they exist in New York, but rumor has it that Bill Corbett has created a masterpiece. Check them out for yourself at Arlequin in San Francisco.
Ahem, back to pretzels. Pretzels are even better when slathered in a sweet mustard sauce. And no pretzel experience is complete without slightly sweet, very tangy, and even mildly spicy flavors. Delicious! My German friends always had a particularly soft spot for pretzels when the beer came out. Putting beer IN the mustard sauce? Genius. PTC Executive Chef, Tanya, knew what she was doing when she came up with this recipe for pretzel bites with honey mustard and beer dipping sauce. It's the perfect party food!
Pretzel Bites with Spicy House Made Honey Mustard and Beer Dipping Sauce
Similar recipes can be found in our Appetizer Recipe Library.
Ingredients
Dipping Sauce:
1/4 cup ground mustard
1/4 cup white wine vinegar
1/4 cup sugar
3 egg yolks
3/4 cup dark beer
3 Tablespoons honey
1 teaspoon kosher salt
Soft Pretzel Poppers:
Butter to grease sheet pans
1/2 cup baking soda
2 quarts cold water
2 Tablespoons warm water plus 1 1/3 cups
1 envelope active dry yeast (have extra on hand in case yeast dies)
1/3 cup brown sugar
5 cups AP flour plus more for bench flour
Kosher or pretzel salt
Methods/Steps
Preheat oven to 475°F.
Bloom Mustard: In a small saucepan, combine mustard and vinegar; let stand for at least 30 minutes up to an hour.
Make Sauce: To the mustard mixture, whisk in the sugar, egg yolks and beer until smooth. Cook over medium heat, whisking constantly, until mixture just begins to simmer and is thickened, about 5 minutes. Remove from the heat; whisk in the honey and salt. Let cool slightly and transfer sauce into a serving dish.
Prepare Pans: Lightly butter 2 or more sheet pans. Set aside. In a large pot, bring 2 quarts of water and baking soda to a boil over high heat.
Dissolve Yeast: In a medium bowl, mix 2 tablespoons warm water with the yeast to dissolve it. Then stir in the remaining 1 1/3 cups warm water and brown sugar.
Mix Dough: Place the flour into a bowl of a large food processor. Pulse the flour to gently mix. Turn food processor on and gradually start pouring the yeast mixture into the flour. Continue mixing until it forms a ball. Turn it out onto a work surface and knead the dough to make it smooth. Use enough flour on your work surface so the dough is not sticky.
Form Pretzel Bites: Cut dough up into 6 pieces. Roll each piece into 1/2-inch thick ropes. Cut the ropes into 1 inch pieces (about 10-12 pieces per rope). Working in batches, drop the pieces into the boiling water for 30 seconds. Using a spider, remove the poppers and place them onto the buttered sheet pans. Sprinkle with kosher or pretzel salt while still damp.
Bake Pretzel Bites: Place sheet pans into the oven and bake for 8-10 minutes or until golden brown.
Serve: Place pretzel poppers onto a serving plate with the mustard sauce.
Serves/Makes
Serves 24