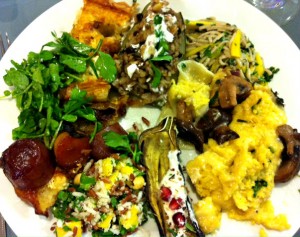 Last week, the ladies of Parties That Cook gathered around the office's kitchen table (you better believe we have a kitchen in our office!) for August's Cookbook Club. It had been a while since our last lunch, having skipped July's Cookbook Club, and it was clear we were all excited to bring it back.
This month it was Erin's turn to determine our fate select the featured cookbook. She went with Plenty by Yotam Ottolenghi (of London). This book provides large, beautiful photos of the completed recipes. They're quite inspiring. Prime example: Beth got ahold of the cookbook early on. She not only found it a difficult to pick a recipe, but ended up tagging the book with so many post-its you would have thought it was her go-to cookbook! I'm pretty sure she ended up buying the book for herself.
And now, on to the recipes: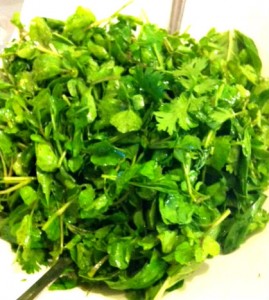 Watercress, Pistachio and Orange Blossom Salad – After blatantly calling her out in the previous paragraph, it's only fair that we put Beth first. Her vibrant salad provided a great break from the bold flavors found in many of the other dishes. After the effort it took to narrow down her selection to this recipe, I cannot wait for Beth to bring in some of her other creations from this book! (Fingers crossed)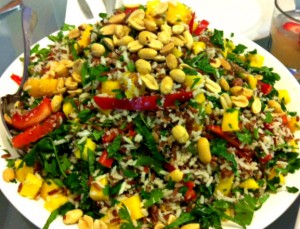 Mango and Coconut Rice Salad – Talk about a gorgeous menu item! Heather selected this crisp, refreshing salad – a great option for those with dietary restrictions celebrations. Heather was pretty pleased with her salad, though she did wish there was a bit more flavor to the rice.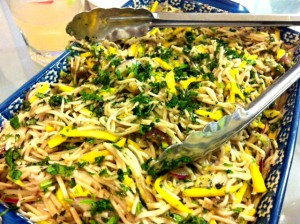 Soba Noodles with Eggplant and Mango – Roxanne brought in this delicious dish, and let me just say: YUM. These cold noodles cook very quickly! And though she removed them from boiling water before the recipe had advised, Roxanne still thought they were overcooked. Nonetheless, everyone loved the light, mild citrus flavor of this salad. I enjoyed the leftovers all week!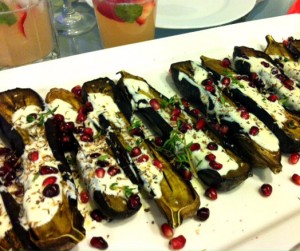 Eggplant with Buttermilk – Michelene went with the cover recipe – a beautiful, simple dish we all welcomed onto our plates. Michelene said she could see herself making this recipe again for her next get-together.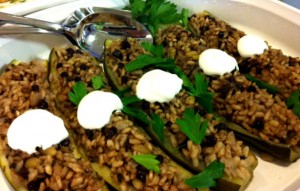 Stuffed Zucchini – Crissy, also impressed with the amazing photography in the book, claimed the Stuffed Zucchini for this cookbook club. The results: DELICIOUS. On a normal day, one stuffed zucchini could probably serve as lunch in itself. On a cookbook club day, however, we feast!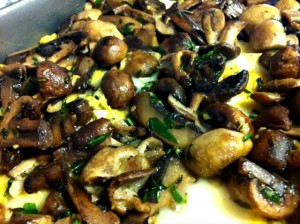 Mushroom and Herb Polenta – As usual, Rebecca was one of the last to pick her recipe, but this time, it proved worth the wait! This buttery, cheesy side tastes best hot out of the broiler. And while I'm sure one could easily eat a heaping helping of this polenta for lunch or dinner, I'd definitely recommend a light salad to offset the rich flavors of this dish.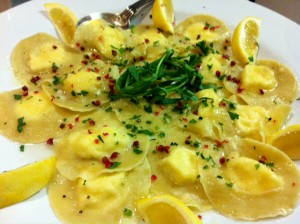 Lemon and Goat Cheese Ravioli – Rosie elected to make fresh ravioli, vowing to put her pasta maker to use. Mission. Accomplished. Though they lost some of their heat waiting for certain slow pokes to get their contributions to the table, these giant raviolis were so tasty! I don't think ONE single ravioli made it to the fridge.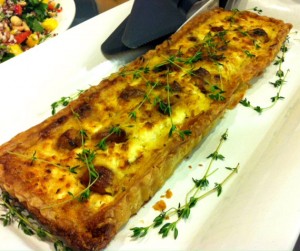 Caramelized Garlic Tart – Bibby selected her dish early on, and boy did she choose wisely! This fantastic tart had a great, crumbly crust (thank you, puff pastry!), and you really can't go wrong with goat cheese. Perhaps this dish really did live up to it's hype as the "most delicious recipe in the world," but I'll let you decide.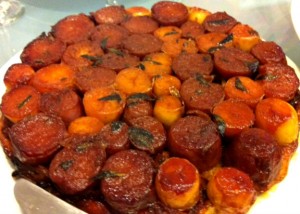 Surprise Tatin – Erin took the cake (pun intended, as we quickly learned this book did not offer dessert recipes!) with the Surprise Tatin. What's so surprising, you ask? Would you be surprised if I told you those were potatoes layered across the top of that puff pastry tart? BAM! This tart was also quite delicious (another victim of wonderful goat cheese).
Christina was unable to cook for this cookbook club, as she hosted a huge summer bash the day before. Luckily for us, she decided to contribute a simple, delicious (addictive) drink instead! Lemonade + Strawberries + Mint + a dash of Sparkling Water is really the only way to go on a warm summer day. Mmmm!
Notice anything missing from this lunch? (Besides mention of Laura, Kelle or Tanya, each of whom were unfortunately unavailable.) How about MEAT?! That's right, Plenty is a vegetarian cookbook. And you know, we didn't miss the usual meaty centerpiece at the table this time. Together, our dishes brought a wholeness to the meal, proving that you don't need meat to have a truly satisfying lunch/dinner/party. We had PLENTY.