There is never a boring day in the PTC office. We once spent an entire week debating which cookbook to feature in our next cookbook club. Emails zinged back and forth before Christina had a brilliant idea. Everyone was asked to bring in their favorite summer dish. (The perfect theme for this girl!) Earlier that week, I visited B Patisserie in the Pacific Heights neighborhood. I was thrilled to discover a variation of  Flammkuchen, a delicious German "pizza", on their menu. B's substituted toasted ciabatta for pizza dough, and I was enamored with the extra chewy texture.
I knew what I was going to make for cookbook club!
Coming into the office on the day-of, the refrigerator was packed with various containers of this and that. I barely found room for my own shopping bag of ingredients. At about 11:30am, we trickled into the kitchen and started the prep-work for our dishes. We were soon peeking over each other's shoulders and discussing the best way to plate. As completed dishes began appearing on the table, I pulled out my camera and started playing food paparazzi.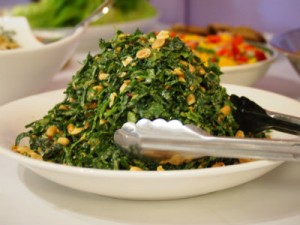 First up: Heather made an INCREDIBLE Kale Chopped Salad with a pleasant Spicy Peanut Dressing. I was a big fan of this tangy take on kale. Kale has a pretty distinct flavor, so the peanut dressing really added an unexpected depth. Needless to say, this was well received by all in the office.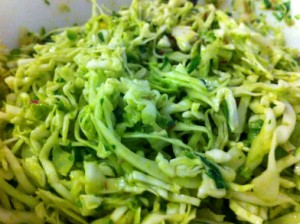 Also on a summer salad bend, Erica, our warehouse manager, made a delicious Cabbage Salad with Avocado and Jalapeno. I simply could NOT get enough of this. In fact, I copied the recipe and stopped by the grocery store on my way home so I could keep some in my fridge!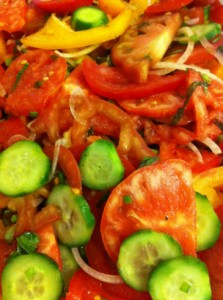 Mary surprised us with a gorgeous old fashioned Heirloom Tomato Salad from Frank Stitt's Southern Table. I loved these tomatoes. With much more complex flavors than tomatoes you find in the grocery store, I was immediately transplanted to my favorite farmer's market.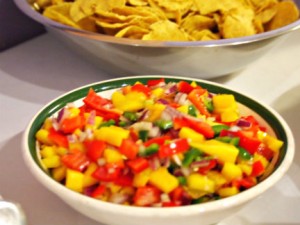 Emily reminded me how refreshing a great Mango Salsa can be. Tangy and spicy, like a salsa should be, but with a sweetness that added even more depth to the flavor. I loved her mango-to-jalapeno ratio.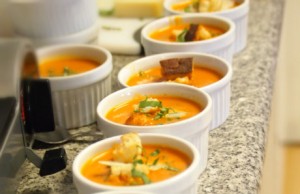 Crissy's delicious Tomato Basil Soup was the perfect thing to brighten the cloudy day's mood. Warm, comforting flavors beautifully combined with a slight citrus kick: YUM. I know what I'll be making this winter!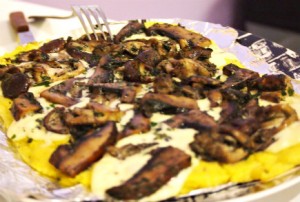 Rebecca made a deliciously rich Mushroom and Herb Polenta from Yotam Ottolenghi's Plenty. Though this cheesy dish was not making it's first appearance at our table, nobody cared. I mean, it's addictively good. Seriously, just go make it. Only then will you understand the heaven our taste buds were in.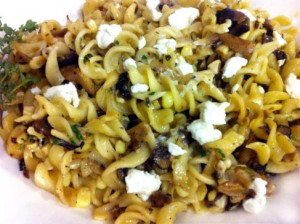 Kelle must have read my mind (or my stomach?) when she brought a delicious Mushroom and Herb Pasta Salad with  Corn and Feta. It was the perfect summer dish! Actually, I could see myself making a warm version in the winter. Anything to be able to enjoy this simple dish year-round.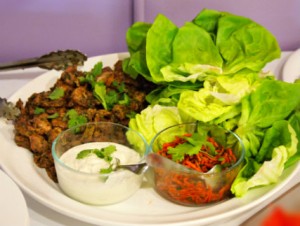 At long last, Bibby had the chance to bring in Turkish Lettuce Wraps from Food and Wine. Incredible. I particularly loved the light sauce, kept on the side for drizzling pouring making it rain. Assembly was quick, as we each piled on a little of everything. And just like that, they were gone…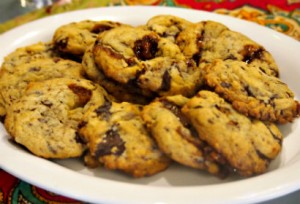 Rosie made a guest appearance (cameo by her bright-eyed son, AJ) and really took our breath away with her Chocolate Chip Cookies with Home Made Toffee. Almost dangerous, they were just too good. The sticky toffee left everyone craving more.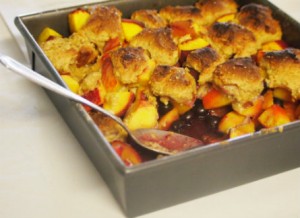 Christina has been cracking me up for the past month by literally singing praises of stone fruit… but I shouldn't be laughing. I fully agree that stone fruit is seriously awesome, and we should sing songs about it. Anyway, with the help of Paulina, our Polish Warehouse Intern, Christina created a deliciously simple Stone Fruit Cobbler. She even left out most of the sugar to let the fruit flavors stand out. Absolutely perfect.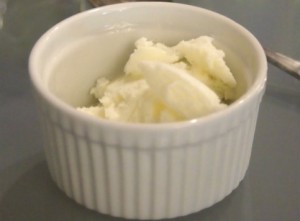 Finally, Beth surprised us with Sweet Corn Ice Cream. I've sampled some unusual ice cream flavors in my day, but nothing quite like this! The striking corn flavor made for a slightly sweet yet oddly savory dessert. My taste buds were a bit confused, but some folks in the office were clearly impressed.
All in all, it was a great culinary adventure. We actually ended up with a pretty balanced meal (not too many summer salads), and everything was spot on! Who knows, maybe cookbook club will become more of a favorite recipe club…